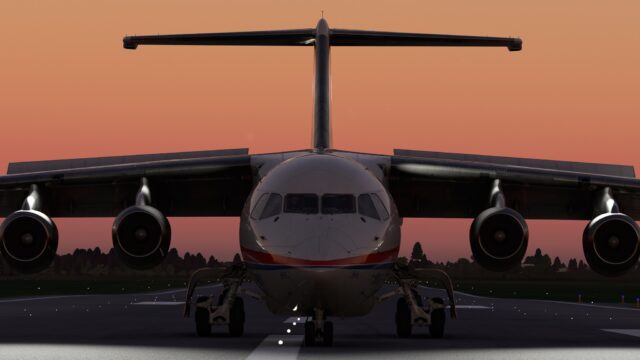 In one place, you will read and see below what are the latest information available on the different aircraft projects by Just Flight for MSFS.
146 Professional
The little jet airliner from British Aerospace (BAe) has received near-to-complete visuals, with multiple liveries and the 3D artwork almost done. This said, the release is not "around the corner" as they still have more systems and animations programming to do, or to perfect along the tests that have already started. Such advanced simulation always deserve careful tweaking.
Just Flight unleased a separate preview album with recent screenshots of the virtual cockpit to show more of the gauges, light effects and pilot environment in their BAe 146.
Fokker F28 Fellowship
Just Flight will include all four variants of this F-28 airliner in this future pack for MSFS : -1000 to -4000. Their current tasklist covers the "systems coding" and "Wwise sound", since the 3D models, textures, animations and liveries are "pretty much complete", said the British publisher.
SC Designs F-16 Falcon Update
An important update is released for the popular jet fighter, with fixes for the 3d model,, textures, and cockpit displays.
Changelog v0.4.0
Corrected pylon visibility on F-16D
Added normal maps and metallic textures to CFT tanks
Corrected texture map calls to F-16I
Improved canopy tint on F-16D and I
Added ability to remove CFT tanks on F-16I
Added AIM-120 option to F-16I wingtip mounts
AN_ASQ213 corrected to only show when Centre exterior tank is not in use
Fixed floating bolt on cockpit glareshield.
General cockpit modelling improvements
DED display now supports VOR Standby readout
AO maps enhanced on exterior textures
HUD display enhanced
Improved cockpit texture maps
Added extra cockpit decals