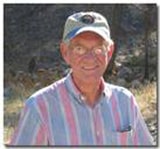 This news flash, taken from AVweb, immediately caught my attention, being a mountain pilot myself. When I read on the news really got to me. It is about Sparky Imeson who has written a number of books on the topic, and whom I personally have had several contacts with him in the past! Sparky apparently disappeared flying a Cessna 180, one of his favorite planes. Click on Read more for the quoted story from AVweb.
"…… Officials in Montana are searching for a Cessna 180 flown by Sparky Imeson, author of the Mountain Flying Bible; the plane has been missing since Tuesday afternoon. Imeson was reportedly alone aboard the airplane, and his last known radar position was about 18 miles north of Bozeman, Mont., at about 2:23 p.m., over the Big Belt Mountains. He had taken off from Bozeman with a destination of Helena, about an hour's flight away. An aerial search was conducted on Tuesday evening but no sign of the airplane was found, and no ELT signal was received. Snow in the mountains made it more difficult to spot the airplane, which is white with a blue stripe, officials said.
The search was continuing late Wednesday afternoon, with no sign yet of the airplane or the pilot. Imeson and another pilot survived a crash in the Elkhorn Mountains in June 2007. In that crash, Imeson tried to walk out of the mountains to find help, but was found by rescuers…..".