There is so much interesting locations to fly to in Europe that we need some catching airports. I feel you'll visit Denmark today.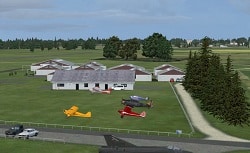 "Vidan Design has released Danish Airfields X – Randers.
The scenery is a realistic and detailed representation of Randers Airfield EKRD, located just north of the city of Randers, Denmark."
"The scenery features high resolution runway and taxiway textures, custom made realistic ground textures with night/day and season variation and custom made Gmax models of objects, cars and buildings. More information and screenshots on www.vidandesign.com. The scenery is available at SimMarket.com.