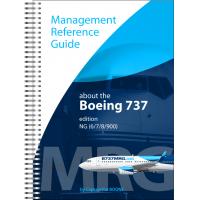 Pat Boone is not new at all with the 737 : First Officer in early 1990's, he passed 737 Captain, and he's now 737 and 767 instructor.
He has upgraded and completed his MRG book over the past years, while it has been for sale at simMarket all this time.
As mentioned in the title, MRG is the Management Reference Guide for 737 available in different editions adapted to your personal wish : IN for the 737-1/200 initial series, CL for the 737-3/4/500 Classic, and NG for the 737-6/7/8/900 Next Generation. Each one can be ordered in black-&-white or full color style.
You will find many tips-and-tricks, panels reproductions and 300 non-normals events to guide you diving in the 737 systems, alarms and warnings to handle any situation you may encounter, if, by chance, you have a serious 737 simulator in your hands (like a NG for FSX..). Download the 40 pages sample to make you an idea of the actual content.