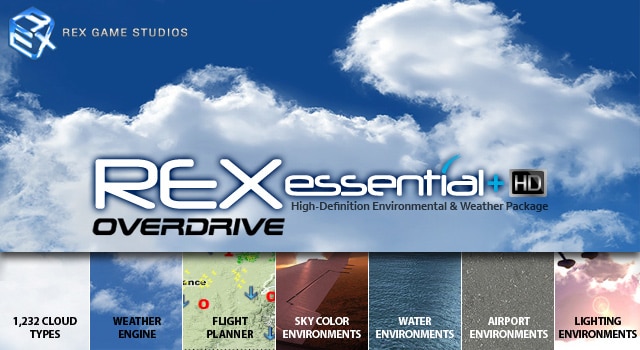 REX Essential + Overdrive and REX Essential + can be updated with their new Service Pack 3. This is not just a simple update, it's a major enhancement on various important core features.
The weather data itself, the wind and temperatures system, the program launch and weather download process or the rewritten and optimized weather engine are are just a few areas they have worked on.  Read all the details in their press release copied below.
Full press release :
PHOENIX, AZ – REX GAME STUDIOS is pleased to announce the release of Service Pack 3 for REX Essential Plus and REX Essential Plus Overdrive.
Service Pack 3 does not do the name justice for what is packed into this major update. The update can be downloaded from http://www.realenvironmentxtreme.com/forums. The following is a list of changes and major enhancements made to this package.
WEATHER DATA INTEGRITY
New backend server based metar data integrity system that can be modified without the need of a new build for the user.
Weather Theme files now have a data integrity system to make sure all data is returned for perfect creation of dynamic themes.
Weather data is downloaded from NOAA and VATSIM 6 times an hour to insure the user receives the most accurate real-time weather.
NEW GLOBAL WIND AND TEMPERATURES SYSTEM
Continued support of world-wide weather balloon system twice a day
New integrated GFS (GLOBAL FORECAST SYSTEM) wind and temperature GRIB forecast data down to the 1 x 1 latitude and longitude globally between the surface and 53,000 feet. This data covers the whole globe from pole to pole.
NEW QUICK STARTUP AND WEATHER DOWNLOAD PROCESS
Weather no longer is required to be downloaded at startup of application
The latest weather is downloaded when the user or the weather submits a request for the weather from our REX EDGE servers. This insures the user has the most recent weather reports from NOAA and VATSIM.
NEWLY RE-WRITTEN WEATHER ENGINE FOR OPTIMIZATION AND INJECTION
The entire weather engine has been written from scratch with no legacy code.
Utilizes new threading processes to better reduce the processing requirement.
Weather engine utilizes a "DISTANT" weather injection process so that as the user travels, the weather injects at a distance from the aircraft. This combined with the "ALWAYS ON" weather pull process nearly eliminates dramatic weather transitions.  Cloud popping and wind shifts are reduced to a minimum.
FLIGHT PLANNING LINKAGE
Support for the PMDG 777 winds and temperature aloft import feature
Support for waypoints with PMDG 777 with Flight Aware integration planning tool.
WEATHER INTERPOLATION AND WEATHER REGION CHANGES
New weather GRID system enables weather to be realized at over 65,000 custom points of weather across the world. This gives the best weather representation down to a 1×1 latitude and longitude area.
Weather surface load regions for dynamic weather themes has been expanded from 4 x 4 latitude longitude area to up to a 15 x 15 region.
NEW UN-CLUTTERED MAPPING SYSTEM
New mapping system is clutter free so that it provides ease of view of where you are flying, yet with enough information to give reliable location information.
New mapping system utilizes new local mapping and not reliant upon other outside services.
Accurate pinpoint location of storm cells, turbulence, and icing.
ENHANCED TEXTURE SUPPORT OF PREPAR3D 2+ USERS
Updated wave animations and sun textures to handle changes to Prepar3D 2 + rendering requirements and DirectX11 support.
Includes fix for "static" wave animations within Prepar3D 2+.
About REX Essential Plus/Overdrive
REX Essential Plus and REX Essential Plus Overdrive is the industry's leading dynamic environment tool for Microsoft Flight Simulator X as well as Lockheed Martin's Prepar3D version 1 and version 2. www.realenvironmentxtreme.com
About REX Game Studios
REX Game Studios is an award-winning leader in environment simulation add-ons with connections to consumers, businesses and institutions worldwide. The company's offering span global services and home computing. More information can be found online at rexgamestudios.com