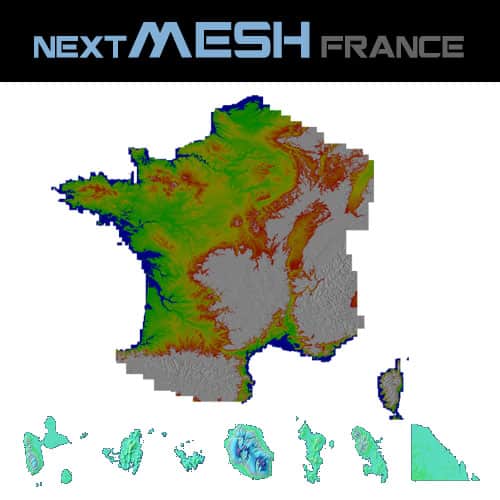 NEXTMesh FRANCE covers the whole french and DOM areas with a 4.75 meters (LOD13) resolution terrain mesh.
This product is not an upgrade from the previous « MESH France FSX 19/38 meters» but a brand new product based on very high resolution data from the NEXTMap® Europe Program (InterMap Technologies® – USA).
This product already includes fixes for airport platforms issues that allows a smooth terrain mesh for more than 400 airports and airfields areas.
TECHNICAL SPECIFICATIONS:
– HD terrain mesh resolution (4.75 meters – LOD13) for Metropolitan France
– HD terrain mesh resolution (4.75 meters – LOD13) for DOM (except for Guyane and St-Maarten)
– Fixes for airport platforms issues for more than 400 airports and airfields areas
– Less than 15 cm vertical precision
– Optimal compiling compression ratio for better quality/performance compromize
– 0.5 degree x 1 degree grid splited files to optimize memory loading process
– Full compatibility with France VFR® photoreal sceneries
– Ability to combine NEXTMesh with other lower resolution generic meshes