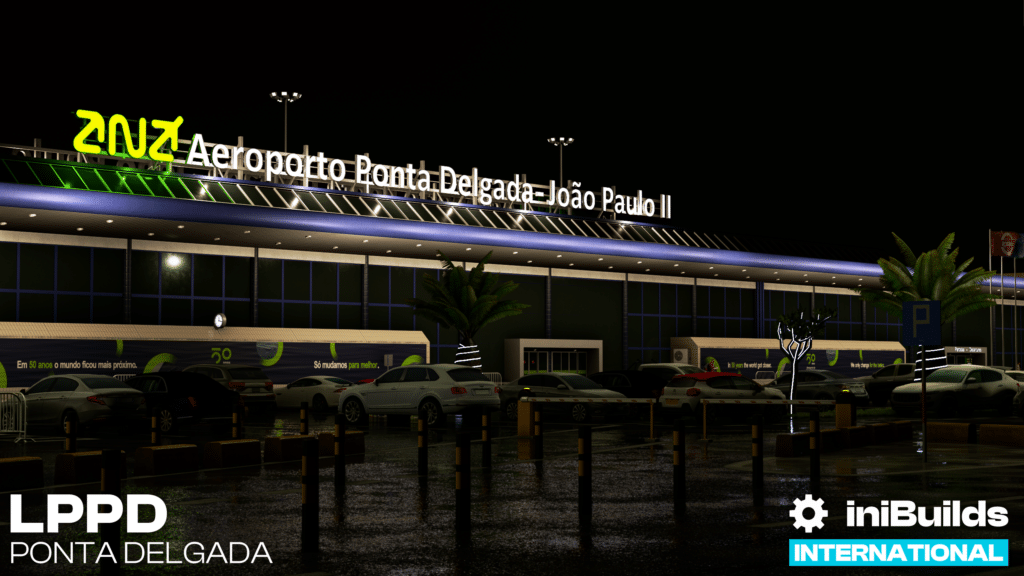 Experience Azores in Unprecedented Detail:
Immerse yourself in the captivating Azores archipelago with IniBuilds' meticulously designed Ponta Delgada – João Paulo II Airport scenery for MSFS, available at SIMMARKET. This international airport, named after Pope John Paul II, brings the beauty of São Miguel Island to life with its accurate layout and high-quality models of airport structures and objects. From bespoke textures capturing modelled cliffs to ambient lighting and intricate terminal interiors, every element exudes authenticity.
A Complete Environment Beyond the Runway:
The attention to detail extends beyond the airport boundaries, with meticulously modelled surrounding points of interest and the Port of Ponta Delgada, offering a truly immersive environment. Custom ground decals, street signs, vegetation, and parking barriers create a vibrant landside recreation, complementing the runway's authenticity. Dynamic airport lighting adds realism to night operations, while the inclusion of the official GSX Profile ensures seamless ground services.
The Perfect Balance of Realism and Experience:
IniBuilds' Ponta Delgada scenery bridges the gap between the United States and Europe, catering to both short hops and expansive journeys. As the primary airport in the Azores, it serves as a base for major carriers like British Airways and United Airlines, offering a versatile hub for flight simulations. Elevate your flight experience with this meticulously crafted scenery that not only replicates the physical environment but also immerses you in the spirit of Ponta Delgada, making it a must-have addition to your MSFS collection.
💻 With Siminstaller = MSFS Auto-Install and Auto-Update via SIMMARKET app