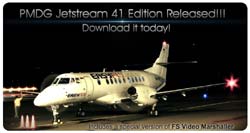 "MDG J-41 drivers take note, FS2Crew has just released its new airline crew expansion pack for the PMDG J-41. Says Bryan York of FS2Crew, "The Jetstream Edition of FS2Crew represents the culmination of over five years' of experience developing add-ons in the FS environment. "  The PMDG J-41 Edition of FS2Crew is at simMarket.com."We try to make each new version better than the last.  One of the most exciting features of this product is that this is the first time we've been able to interface with a PMDG aircraft directly without having to use simulated mouse clicks or keypresses.  It was like having an SDK.
Bryan further comments, "The Jetstream is a tough —and awkward-  plane to fly given the constrictions of desktop flying, especially when it comes to reaching certain levers and buttons at critical times.  The FS2Crew FO works to alleviate a lot of these problems.  He makes flying the J-41 a lot easier."
The PMDG J-41 Edition of FS2Crew includes the following features:
100 percent customized and coded from scratch to integrate perfectly with the PMDG J-41.
Seamless "SDK style" integration with the PMDG J-41.
Voice control interaction with the flight, cabin and ground crew
United States, United Kingdom and Eurozone voice sets recorded by real-people.
FA cabin announcements
Procedures modeled on a real-world Jetstream airline SOPs.
Free Bonus features include:
Free version of FS Video Marshaller.
VC Panel Switcher tool that makes changing VC views in the J-41 much easier.
For more information, PMDG J-41 pilots are cleared via present position direct to: www.fs2crew.com
The new FS2Crew Jetstream version is available via simMarket.