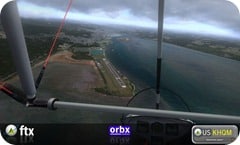 Orbx is pleased to announce the immediate availability of KHQM Bowerman Airport, a FREEWARE release for existing customers who have purchased the full version of FTX Pacific Northwest installed.
This airport is of the same quality as the FTX payware airports, and includes the usual Orbx attention to detail and tech like PeopleFlow, TextureFlow, a very large fully annotated photoreal area and perfect blending into the surround FTX Pacific Northwest terrain.
Grab the Bowerman Airport from the freeware page –http://fullterrain.com/freeware.html
*** NOTE: You should only download and install this version of KHQM Bowerman if you are an Orbx customer who has installed the full payware version of FTX Pacific Northwest.
Source: http://www.orbxsystems.com/forum/topic/36064-khqm-bowerman-freeware-now-available/