FS Captain offers so much to the simmer. If you don't belong to a VA but would like the feel of working for an airline or if you work for a VA but still want more realism and ratings on the quality of your piloting, this is an application for you.
What is it?
FS Captain is an app that you pop up at the beginning of your flight to mimic many aspects of a real airline pilot's flight. You set the loads, which can be done automatically, report stages throughout your flight to the ground monitoring system, communicate with the crew, and keep the passengers happy. At the end you are given a grade and move up through the ranks of your airline if your numbers are good enough.
Installation and set up.
The installation is straight forward and is the same for FS2004 and FSX. You can install it into any folder you like. Once installed you must run the FCOM program to install the FS Captain gauge in an aircraft and then use the administration program to pick an airline to start your career with. Some airlines are provided but you can create a custom one very easily by basing it on one of the defaults and then tweaking it. You will have to register your program in the Administrator under the Registration tab. It's done via the internet so it's a matter of seconds before you are ready to commence your career.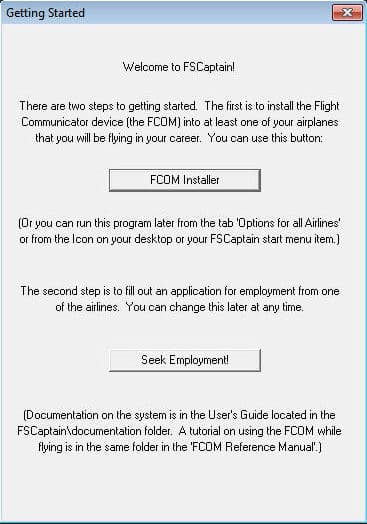 As you can see in the picture above, when you install FCOM into an aircrafts panel, its indicated in brackets.
The downside to the installation program is that there are no shortcuts provided to the manuals nor is a shortcut made on your desktop. The desktop shortcut is easy to make. Making shortcuts to the four manuals will take a little time. They do show you the folder structure of the system in the ops manual so you can create shortcuts to the manuals. Create these shortcuts as you will be referring to them allot.
The main manual is well written and very detailed. I strongly recommend you read the manual. It contains allot of information about the little things that FS Captain is capable of doing and does behind the scenes. You'll learn when the various reporting actions are to be done by the pilot and the penalty if you don't. This is very important to maintain a good score in your career. There is a section on how FS handles weather that is really worth your time. It's the best explanation I have ever read. There's another section on Parking Codes that is full of information that you will find interesting, too.
There is another manual for using the FCOM gauge itself which you must read. There is an amazing amount of information available in this gauge and it is the one that you will use while in flight. Again, the manual is very well written and pictures are provided throughout.
There are two other manuals. They are for the First Officer and Flight Attendant voices. You can use the default voices which are pretty clear and a little humorous at times, especially if you do something really bad. Lines like "What are you doing?", and screams can be heard on those extreme situations. You can add custom messages by recording your own voice and these two manuals provide you with the lines to record and the file names to use so they work with FCOM.
Finally, one of the first things you should do is run the Rebuild Airport Database from the Administrator under Options for All Airlines. This scans your scenery library and loads gates, etc., so that your FCOM gauge reports the proper data about your custom scenery in addition to the default scenery.
Over a long period of time I have run this app along side many other apps that connect to FS. I can tell you that I have not found a problem with FSpassengers, kACARS, XACARS, Active Sky, FSUIPC, AFX, nor Instant Scenery. This app behaves itself. The only issue was with FS Economy. FSE's interface loads the aircraft automatically with fuel and passengers which will conflict with FCOM.
FS Captain Administrator
There is not enough space to cover everything about FS Captain. It is a fantastic program so I will cover things that you should know and some of the benefits.
First, the Administration program is very detailed. You are first shown your career so far which can be broken down into more details over the next three tabs. You will notice that I don't have many entries in my log. That's because I have a separate Administrator installation for FS2004 and FSX Flights. You only see the FSX flights below. This is useful as some payware aircraft features may be available in one sim or the other but not necessarily both.
The remainder of the system is used to define your airline and aircraft in your collection. You can leave the aircarft definitions alone and FCOM will make generic entries for you or you can get more detailed so that your aircraft are loaded more accurately and your airline is run the way you like.
Take a look at the screenshot below. You can define such detailed items as percentages of times you will incur a blown tire or bird strike. On the right side you can define cargo loads and how long it takes to load passengers plus pick the measurements used during your operations.
The Weather options is a section that allows you to use various weather systems such as Active Sky and Real Environment.
After this you can then go into more detail about your airline in the Airline Definitions tab. Just look at the details they have gone into. You determine the pay levels, company policies, and how strict your company is for safe flying. This screen is excellent if you are running or work for a virtual airline.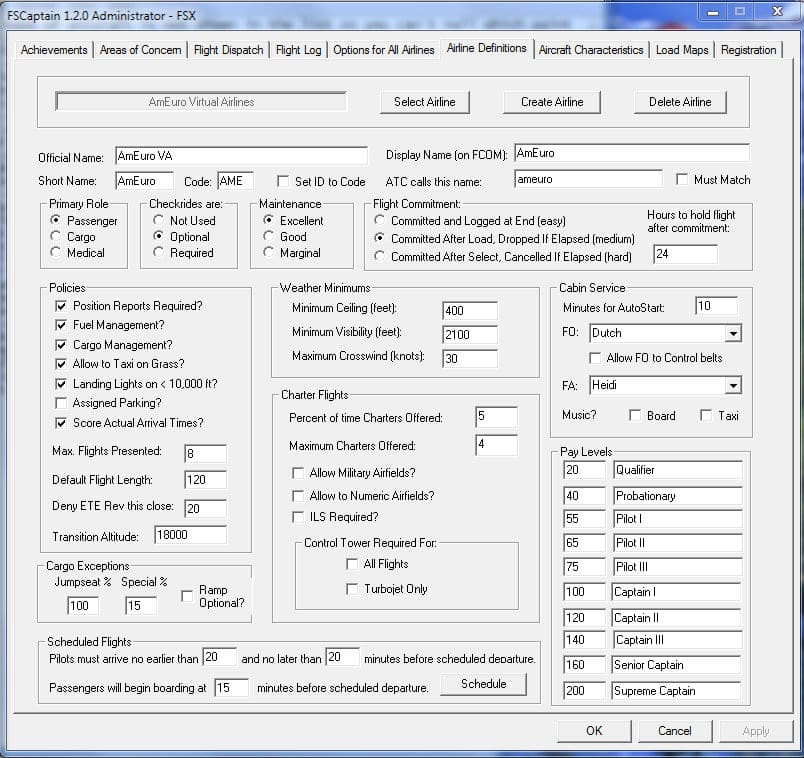 Next you can define the aircraft in your hanger. The screenshot below shows the settings for the Beech 1900D I like to fly. FCOM will create this automatically every time you load an aircraft that isn't on file. You can then go back and tweak it or just leave it as is. On top of that you can go to the Load Maps section and define the aircraft loading in more detail.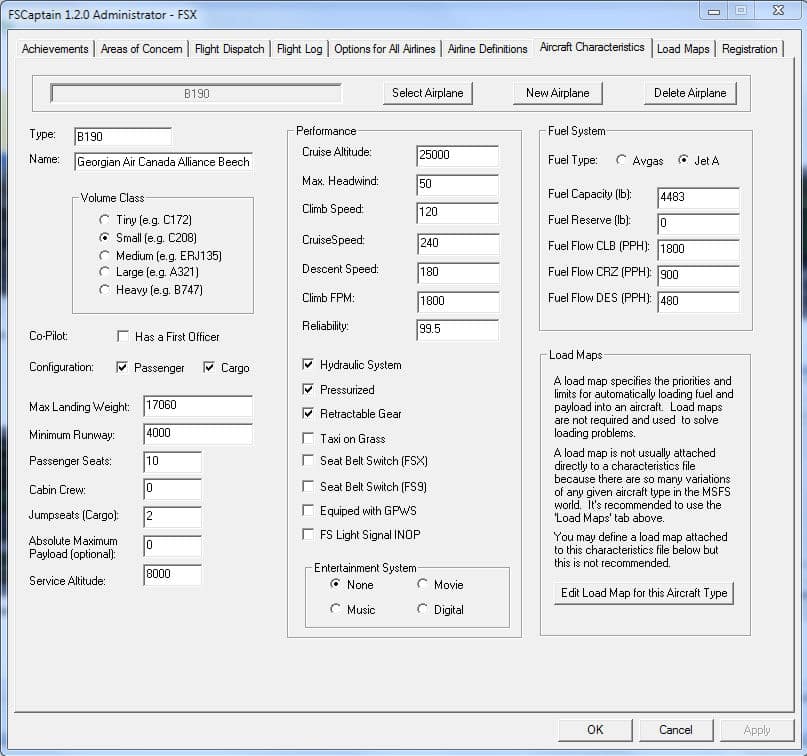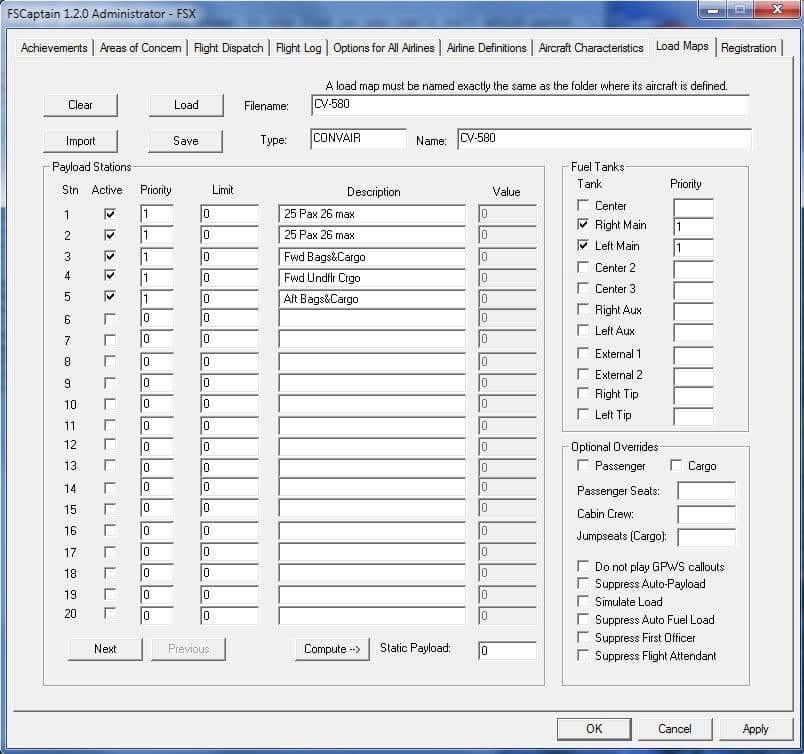 Now that you have set up your airline and started your career with an airline let's take a look at the gauge and what it provides.
FCOM
You access the gauge by the Shift-number key combination you defined when using the FCOM installer or using CTRL-Shift-6. Note that in FSX you will need to have the ATC window closed in order to use CTRL-SHIFT-6. After powering on you will be given a message or two and then you are ready to start your flight. There are two ways to define a destination. You can let FCOM pick one randomly based on settings in the administrator program or you can enter it manually. I fly for a VA so I always choose the manual option. Based on your destination FCOM will calculate an estimated time enroute.
You then start loading passengers. Some aircraft will require that you open the doors but most will work with FCOM and the doors will open automatically.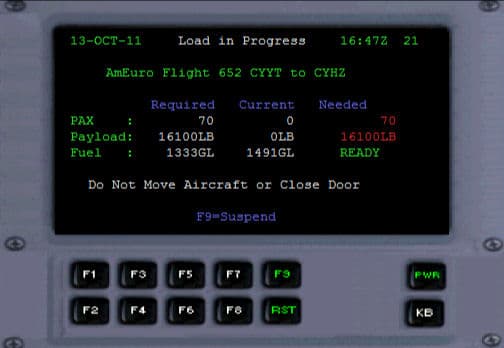 Once pax are loaded the doors are closed and you can continue.  You will hear various voices and sounds during this time appropriate for the process. You may see a message that you are below minimums and you can request a departure from your office which will come in less than a minute usually. Tip: don't click the Proceed button after pax load is done until you are ready for pushback. Minutes count in this system but you can change the ETA while enroute if you are running late.
FCOM also provides us with a pushback system that you can define in more detail than using the FSX pushback system (if you can call it that). The ground crew will contact you to disengage the park brake and engage when pushback is complete. The voice used is very familiar… I've heard it somewhere before in a freeware app.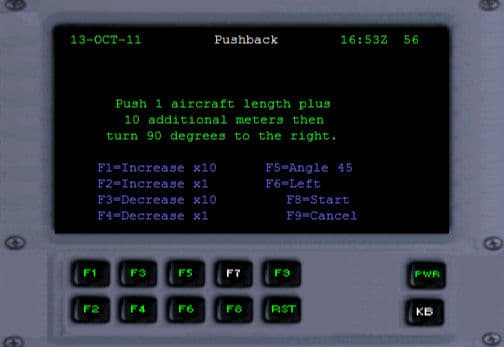 From this point on you are required to report at various positions and you are responsible for the passengers. Your First Officer will aid you in telling you when an action should be taken such as lights off and to change the altimeter to standard when passing the required altitude. FCOM uses as realistic transition altitudes as possible so listen for this warning from your FO. Some airports are at 18000, some are at 5000, etc. The altitude is available for you to see before departure in the FCOM unit (see picture below). He will not tell you to service the passengers and when to change the seat belt sign. This is your call. Some aircraft will not work with the FCOM seat belt sign so there is an option to toggle the seat belts within the FS Captain menu.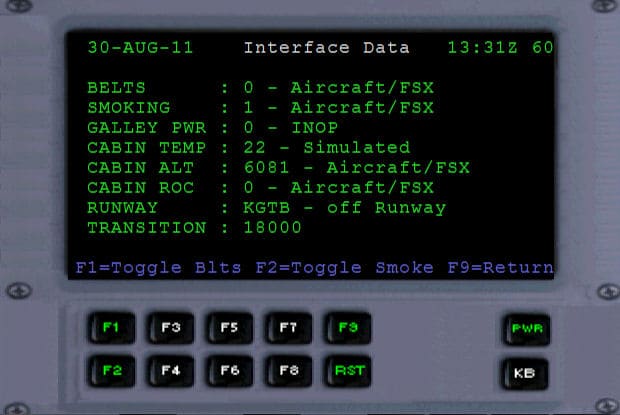 Enroute you are required to report the Top of Climb (TOC), at intervals enroute, and the Top Of Descent (TOD). Failure to do so will result in marks taken off your report card. Don't forget to service the passengers or you will be graded accordingly at the end of the flight. Plus, you can give the pax a heads up if you run into turbulent conditions and they will give you a nice score at the end.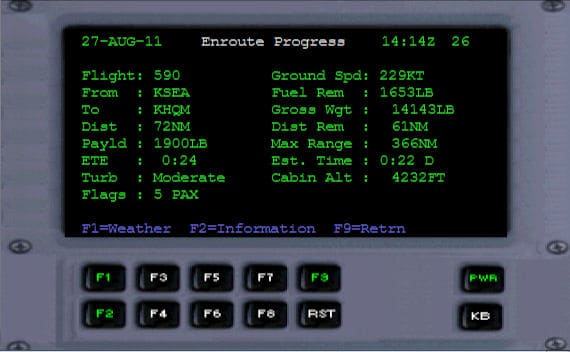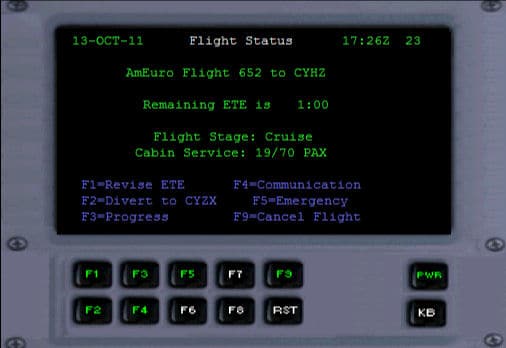 While enroute you will see various messages and when you are close to your destination you will get wind and gate information. The wind information is taken from FSX or the external weather program you specified. It is accurate. Within FSX the weather reported is not necessarily the weather at the destination airport but FCOM circumvents this issue and gives you the real weather at your destination. Now you can accurately pick the runway to land on while still being 80nm+ from your destination.
Once you've landed the unit will then guide you to the assigned gate. This is very useful but it will require some thought. It doesn't draw lines on the taxiway, but it gives you the direction and distance to the assigned gate or the nearest one if you have gate assignments turned off. If you use AI Traffic I suggest turning it off so that you are not assigned a gate that is already in use… although it hasn't happened to me yet.
Your landing is graded and if you hear clapping and a good comment from your FO then you know you did well. If your FO says "That was a bit rough…" you better be ready for a scolding. The FO is a little sarcastic so you better have tough skin if you are inexperienced. Love it.
I will warn you that if you have a poor connection to the internet you will have problems with this app. If your internet goes down while enroute, the unit will lock up and you will not be able to restart the unit until you restart FS.
One final comment is that it is possible to score higher than 100. When we see scores we assume it's on a percentage system with 100 being the highest. This system is not based on a percentage as such and they state in the manual that it is possible to go over 100.
Conclusion
Fantastic manuals! I love the various sounds throughout the flight and lines from the FO.I like that the FCOM is smart in that if your aircraft doesn't have a FO or crew (such as the B1900) it disables all their features. I like the feel that the system gives you in general. You feel more like an airline pilot when using this program. If you don't like flying for a VA this is a great app for you, but even if you do fly for a VA it's still a great app. All of that plus it's flexibility and attention to detail makes this one of my favourite apps for FS. Highly recommended.
A recent visit to the FS Captain forum has enlightened me about a new update in the works with some new features and options. Stay tuned. Their site is up to date and responses on the forums to technical issues is reasonable, if not prompt. This looks like a product that will be around for a long time. They have a demo available so you can give it a try yourself and ensure it's compatible with your aircraft and other apps.
Is it worth your money? It is priced high compared to other add-on's like quality aircraft or scenery. It is a well developed product and you will enjoy using it. If you want to justify this purchase you can simply say, "I can use this add-on in FSX or FS2004 for every flight while I may not use an airport add-on or aircraft on every flight". If you can't say that with confidence then leave it for now and revisit it after doing more flying.
Developer: Systems Unlimited
Filesize: 68mb
Where to buy: Simmarket – FS Captain
Price: ~$49 Canadian/USA or 35 Euros with VAT
Extensively tested with iFly 737 series for FSX, PMDG 737 for FS2004, PMDG Beech 1900C/D in FSX and FS2004, Flight1 ATR 72 in FSX, Tinmouse II B737-200 in FS2004 and FSX, and CalClassic CV-580. Plus other aircraft were tested for compatibility including default C172, PMDG 4100, and FSD Piper Navajo.