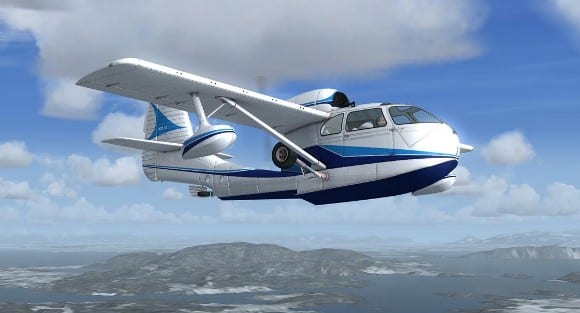 Another one of those little aircraft that it's hard not to like, the Rebuplic Seabee was born in the immediate aftermath of World War II, as Republic's attempt to get into the expected massive boom in civil aviation.
Although the market may not have quite grown as fast as some people expected, the Seabee's unusual looks and excellent capabilities carried it through and it is still a very popular aircraft 60 years later.
Now, with the support of owners and operators of the type, KC Flight Shop have produced this little aircraft for use in Microsoft Flight Simulator X, available to buy as a download from their website. For the full Press Release including a features list, please click on "Read More", below.
Full Press Release text:
KC FlightShop Introduces the Republic RC-3 Seabee an all-metal amphibious sports aircraft designed by Percival Spencer in 1944 and the RC-1 made its first flight with Spencer at the controls.  By the end of 1944 Republic had received 1,972 civilian orders for the $3,500 airplane.  The Navy granted Republic Aviation the rights to use the name Seabee for the civilian version. Today, more than 60 years after production ended, the Seabee is still the most popular amphibian on the used-market…
The KC FlightShop recreates the first production RC-3 Seabee with original equipment as released from the factory for a vintage flight experience, the fully interactive VC uses 3D gauges throughout with every system modeled.
Features include:
HD quality textures (2048 x 2048).
Authentic HQ digital stereo sounds.
Fully animated pilot
Kneeboard checklist with performance tables.
Realistic night lights effect in the virtual cockpit..
FSX features: external dynamic shadows, internal dynamic shadows on VC, volumetric normal mapping, specular mapping and bloom lights.
FPS. friendly model
Interactive virtual cockpit.
Full moving parts: Ailerons, elevators, rudders, flaps, rolling wheels and trim tab
Animated Doors
Lights: Panel Lights, Navigation lights, landing and cabin lights.
Fully normal mapped interior.
Compatible with Addon Hardware and Shared Cockpit Functions
Easy to use paint kit
Realistic behaviour, pilot tested to match the real airplane.
Help from many pilot and owners of real Seabee's for accuracy and authenticity 
Visit the KC FlightShop http://www.kcflightshop.com/?page_id=245 for a look at this new release!