Late last year Aerosoft released a nice little scenery addon; Corfu X. This scenery is a detailed recreation of the airport of Corfu plus the entire island of Corfu.
The island of Corfu is the second largest of the Greek Ionian Islands with an area of 613 sq kms and a population slightly more than 109,000 and is a popular tourist destination for Europeans. It forms the northwest frontier of Greece. The island has one airport, Corfu International Airport also known as "Ioannis Kapodistrias" (Capodistrias) International Airport:ICAO, LGKR. The majority of flights are either seasonal or charter, to maintain the island's tranquility the majority of these flights take place on Mondays and Fridays. The airport has a single runway 35/17 @ 7,792ft.
Installation
Installation is a two part process; first is the scenery installation and then product activation. Both are straightforward but do require you to add your registration information. As with all recently released Aerosoft products they include the Aerosoft Launcher application, it is through here that you will activate the scenery. When you complete the process the scenery will be available in the FSX list of airports.
Configuration
Configuration of the scenery is done from the Corfu X Manager panel. It can be accessed by going to the Corfu X program group where it appears as a sub menu item or you can get to it from the Aerosoft Launcher application. As part of the documentation they include a one page PDF document that has pictures depicting each of the options that appear on the panel.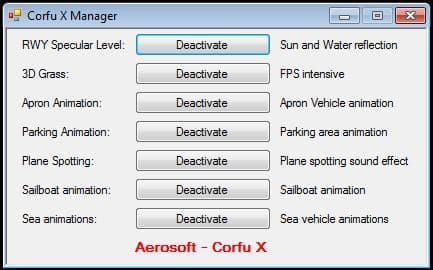 Documentation
The manual is a 17 page PDF document that is divided into several sections; Corfu X scenery, Aerosoft Launcher and the Corfu X Manager.
The first nine pages are all about the scenery and includes all the typical stuff found in most manuals. I felt that they made very good use of screenshots to back up what they explained so if you are a novice with FSX settings you should not have any problems figuring out what you need to do and where to do it. The second section (Appendix A) is made up of a series of screenshots that take you through the step by step process of using the Launcher application and activating your scenery addon. I thought it was very well done and easy to follow. The last page (Appendix B) is a screenshot of the Corfu X Manager.
Aerodrome charts are not included but they can be found on the internet by doing a search for "LGKR charts".
The Scenery
Ground textures
The hard surface textures were detailed with visible signs of distress from age and wear and tear. Colour variations for the different materials such as concrete and asphalt were also implemented. The painted markings were well done showing signs of wear due to ground traffic.
The ground textures used for the other areas such as nearby roadways and parking areas were generally pretty good; at low altitudes however they did appear somewhat blurry.
Volumetric grass is included as a selectable option. You are warned that it could be frame rate intensive but in my opinion at ground level it is definitely worth it and makes taxiing on the ground look so much more realistic.
Buildings
The airport does not have many buildings; there is the two building passenger terminal, control tower, fire hall, security checkpoint plus a half dozen or so smaller buildings. The largest building happens to be the passenger terminal; it is a simplistic looking structure with the obvious features being the external enclosed stairways and the long sloped covered walkways that descend to the apron. These are nicely fashioned and break up the otherwise bland exterior. A less obvious structural feature is the intricate metal work located just below the roof line. This is one of those details that must have taken a great deal of effort but won't get appreciated unless you look for it.
The other buildings such as the security checkpoint, fire station and fuel farm include extra bits of detailing such as exterior light fixtures and a/c units. The buildings like other parts of the airport look weathered and aged.
The tower is located just to the north of the terminal and it too is a rather non-descript building quite unlike the fancy towers seen at many other airports. I did notice that they forgot to include any roof mounted antennae.
Objects
Strategically placed in front of the main terminal buildings there are some static vehicles along with several portable power units and then some smaller miscellaneous objects. These elements combined give the main apron a look that there is some activity happening.
The majority of the objects included in the scenery were very good however several stood out.
I couldn't help but notice the PAPI lights, I think that they rate as among the best I've seen in any addon. In the screenshot you can see just how much detail they included.
There are also the runway 35 approach lights. They are meticulously reproduced and include such intricate details as pieces of barbed wire hanging on the cross braces and rust stains on the concrete. They clearly spent lots of time and effort in making these and it paid off with some great visuals.
Like every scenery there were some objects that didn't quite match the standard of the rest. The most obvious example was the VOR/DME, it's oversimplified and doesn't match the quality of most other airport objects.
Vehicles
The parking lot just north of the terminal building is crammed full with all sorts of airport service vehicles such as buses, baggage carts and air stairs. They've recreated all of them very realistically, they even added a few small details that are only visible on close inspection; details like tires that have discrete tread patterns and baggage tugs which show a driver seated in the small cramped cab.
The overall quality of their vehicles is very good but my favourites have to be the buses; the models are detailed with roof mounted air conditioning units and outside rear view mirrors. They capture the modern sleek look of these airport transportation work horses.
Animations
The airport includes AESLite so that means you get a number of different animations all of which can be enabled or disabled via the Corfu X manager panel. They include vehicle traffic in the apron and parking areas plus boat traffic off the end of runway 35 and around the island of Corfu.
There is a problem however with the Hertz buses that travel around the apron; they literally pop in and out of the scenery while in plain view. This unfortunately is very noticeable because of where it happens and so I felt it was a negative point. It would have been nice if they had found someplace where it wasn't so obvious.
Island of Corfu scenery
The nearby town of Corfu has been populated with autogen, mostly standard FSX type however some of it is custom so you do get to see several of the old historical structures like the Fortress of Corfu. Just to the north they include the harbour with some large ships including a cruise ship. The autogen unfortunately is confined to the city of Corfu and a small area along the approach paths to the airport.
The remainder of the island is rendered in photo scenery and although it looked good at higher altitudes flying around at lower VFR altitudes the lack of any autogen was painfully obvious.
Night
Night lighting was good; apron lighting, ground lighting including the blue edge lights, lit taxiway signs and buildings displaying both interior and exterior lighting plus night textures. All were included and looked realistic.
Towns and villages on the island also had some lighting; just what you'd expect to see in areas where you had pockets of population and roadway traffic.
Approaches
The approach to runway 35 is an interesting one that I really enjoyed. The approach path takes you past some nice scenery features like the Monastery of Vlaherna and the Corfu Holiday Palace. Also crossing these waters directly below the approach is a low concrete bridge that is ideal for plane spotters. The scenery recreates this interesting vantage point.
Performance
Performance was never an issue with this scenery. With all scenery enhancements enabled there was no noticeable loss to frame rates.
Final Thoughts
Overall I really liked the scenery, it provides a realistic depiction of the airport plus you have an entire island to explore. There are some interesting sites in and around the city of Corfu that have been reproduced with custom autogen but this island is rich in history and so I would have liked to have seen more of these included throughout the entire island. Despite my misgivings this scenery addon is still a great value for the price.
My Ratings
Installer: Very Good. Simple as always.
Documentation: Very Good. Lots of screenshots to back up explanations.
Modelling: Very Good.
Extras: AESLite and a configuration utility included.
Download Size: FSX 405Mb
Price: EUR 15.08 without VAT
Developer Homepage: http://www.aerosoft.de
Link: http://secure.simmarket.com/aerosoft-online-corfu-x.phtml
Test System:
Intel i7 960 OC @ 4.2 Ghz, 6 Gb RAM, ASUS 480GTX w/1.5Gb video, Win 7 Ultimate 64, FSX w/acceleration, Ultimate traffic 2, REX Overdrive, GEXn, UTX, AES, GSX.
Richard Desjardins