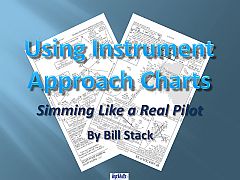 TopSkills complete their video tutorials to teach you how to use Instrument Approach Charts also known as IAC.
These airports informations load many informations to help the pilots proceed the standard arrival procedures, and to perform their final descent and runway alignment until touchdown (navaids, vectors, mini and maxi altitudes, descent profiles, altitude of decision etc..).
All of these data are normalized, so you can learn easily the basics and principles of reading the charts. Then, for almost any airport of the world,  you'll be able to retrieve the navigation info you need.
A free sample demo (WMV) can be also downloaded before purchase.