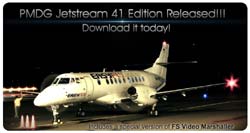 This weekend will see more iFly 737 and PMDG J41 Jetstream pilots in flight I guess. Especially the ones who add FS2Crew to simulate the whole crew interactions, checklists, and real airlines operations.
There are updates to grab for both softwares.
For FS2Crew iFly v2.41, please have a look in their support forum here.
And for FS2Crew PMDG J41 turboprop, just visit the Service Update 2.0 download page.