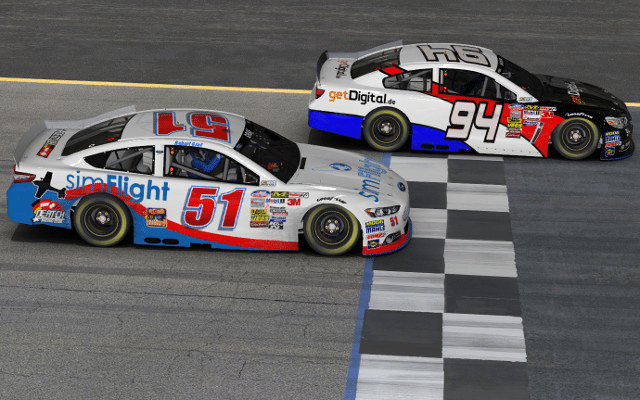 The floodlights of the Kentucky Speedway might keep the track illuminated for the drivers, but in a large and competitive field, if you are even slightly chicken, you're going to end up fried.
As the picture above shows, the iRacing DOM-GNL (Deutsche Online Meisterschift or German NASCAR League) is pretty close and competitive, with Robert Graf keeping his simFlight liveried Ford Fusion right in the middle of the action. This was definitely one of the closest finishes you're likely to see, but for what position, you ask? Click "Read more" to find out!
Race report:
Kentucky is one of the newest tracks in the NASCAR calendar. Only last year this fast, wide and flat track was added and the different lines possible make for competitive racing. Drifts close to the wall and the poker for tires and fuel make this one of the most anticipated races during the season.
For the second time in a row Florian Kirchhofer manged to be just outqualified by Peter Taggeselle, thus starting on the outside line. On the start he is much quicker into T1, exploits a small slide by Taggeselle and takes the lead on the back stretch. Andreas Wilke in 3rd checks his rear, but no one there. Matthias Bayer and Stephan Peters missed their start a bit, behind them battles cause the first 3 wide already. Daniel Franzke and Marvin Aulmann finish the first lap side by side.
Taggeselle gets the lead back in lap 2, but not for long, Kirchhofer presses hard. The TOP3 run very close together at that point. Franzke cashes in on Peters and on lap 6 he also overtakes Bayer for P4. Kirchhofer has a better run out of T4 and regains the lead.
On lap 15 Wilke overtakes Taggeselle, who had lost direct contact to the leader. Wilke can hold the gap for a long time, but he cannot close it. The first 6 cars settle in for now, the real heat happens behind them. Cars are very close there with frequent position changes and 2-wides.
On lap 35 Mirko Hempel has left the rear and overtakes Peters for 6th. Meanwhile also Franzke has closed the gap to Taggeselle and takes 3rd on lap 47.
Leader Kirchhofer and Wilke pit on lap 58 for the first time. They storm out of the pits in the same moment, but Wilke can't take any advantage of it, he stays in 2nd. Franzke's stop isnt perfect either, he loses 3rd to Taggeselle. But he is back on Taggeselle's tail in lap 66. Despite the faster car, he cannot make the pass.
On lap 76 caution flies for the frist and only time, Lukas Przybylski is the unlucky one. He loses the front out of T4, the following hit sends him spinning down the front stretch. His race ends 6 laps later. All drivers use the caution for a pitstop. Fastest is Christian Schick, he is just inches in front of Hempel out of pitlane and takes 6th position. TOP5 remain unchanged. On the restart in lap 81 Kirchhofer takes off like a rocket, no one can follow him. Behind him a 3wide by Baer, Hempel and Schick goes to Hempel for 5th. In front Franzke tries everything to get by Taggeselle, but he counters all attacks and even manages to close the gap to Wilke in 2nd.
On lap 90 Schick is now finally on 5th, after a close shave with Hempel. But only 6 laps later Schicks tires are gone, Hempel retakes 5th. Schick overbrakes into T1 on lap 100, now Bayer is in 6th. Not for long, on lap 106 Schick regains 6th. Taggeselle now seems to loose momentum, the gap to Wilke in 2nd increases and Franzke in 4th is closing.
On lap 140 all drivers have been in the pits once more, some earlier, some later. Franzke seems to have the best end this time round. He is now 2nd behind Kirchhofer and in front of Taggeselle. Wilke goes down to 4th, then Hempel and Schick. Wilke does a great run now, on lap 144 Taggeselle lets him by and on lap 153 even Franzke cannot hold the white #83. But the victory is completely out of sight by that time.
Battles heat up now, on lap 155 Schick gets 5th again from Hempel. Short slide from Schick and Hempel is gone again. 3 laps after that Taggeselle has closed the gap to Franzke, but now they also encounter a group of 3 cars (Graf, Grotheer, Kloth) battling for 11th. These drivers are very unwilling to give way to the leaders, they have to fight their way round. Taggeselle cannot make a move on Franzke, he stays in 4th to the end.
Kirchhofer wins after 170 laps, 8 seconds in front of Wilke and Franzke. Taggeselle, Hempel and Schick are 4th, 5th and 6th. In the championship Kirchhofer extends his lead further with Wilke, Taggeselle and Grotheer as contenders. Andreas Kroeger is the new guy in the TOP5, now ex equo with Graf. In the team championship DIHL has now taken the lead with just 3 points in front of HPM, DIHL.AT still at 3rd place.
Richmond is next!
Personal view:
A race full of ups and downs. On the first stint everything went perfect, after 10 laps I had taken 7th place. Somehow all cars seemed to have parked around me, car was wonderfull to drive. On the first stop I missed my pitstall slightly and fell back to 12th. Then I had Marvin Aulmann in front of me and could't make the pass. I, unintentionally, did give him quite a push into T1 after a few laps and deformed my front a bit.
On the caution, the stop took just 12secs longer to repair the damage. But now the car was overheating, so I had to strip the tape. That made the car very tight, I couldn't corner anymore. So I took a rather early pitstop and put some tape back on. The car was better afterwards, but nowhere near as good as in the beginning.
On the last laps I tried to pull every trick I had to keep Hauke Grotheer and Fabian Kloth behind me for 11th and the the leaders joined the battle. But they knew we were fighting too, so they played along. I leaned onto teammate and then 4th placed Peter Taggeselle out of the turn searching for grip. That was some great racing there, the best I have ever encountered. Sadly I had to let Hauke and Fabian by. They continued their fight and I gained. But it wasn't enough, I missed 12th by 0.04 seconds (see picture).
Sometimes a 13th place can be rewarding!