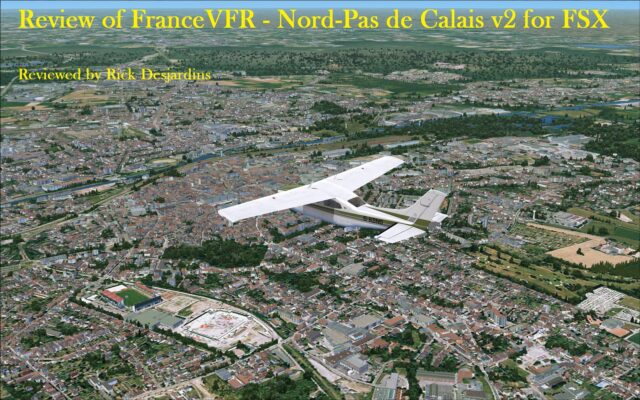 Nord-Pas de Calais is the next release in the series of VFR v2 sceneries from FranceVFR. A simple way to describe them is to say that they are a VFR scenery on steroids!
Rather than reinvent the wheel here is a bit of history on the region taken from my review of Nord-Pas de Calais back in August of 2010. The most northerly of the 22 regions that make up the country of France, Nord-Pas de Calais shares a border with Belgium to the east and a coastline with the English Channel along the north. It's population is concentrated mostly in urban areas and is the fourth most densely populated region in France.  The administrative center of the region is in the city of Lille. Inhabited since prehistoric times the area was always viewed as holding strategic importance and was conquered by various factions until it was finally annexed by the French in the late 17th century. During the 19th century it underwent major growth in industrialization and saw heavy industries such as mining, steel and textiles become it's major source of employment.  It suffered greatly during both World Wars and the economic downturns of the 70s and 80s.  Since then through a combination of investments by the European Union and the opening of the Channel Tunnel in the 1994 it has seen a resurgence in it's economies and the appeal to tourists increasing steadily since then.
Documentation
The installer will create a program group in the Windows menu called France VFR. Within this group is the Nord-Pas de Calais sub group. It is through here that you can access the manuals as well as the uninstaller. The manual and charts are in French and English.  The PDF manual is brief at five pages but is packed with lots of good information. They include such topics as minimum and recommended system specifications,  technical specifications, notes on the install and uninstall routines, recommendations for display settings and optimization as well as links for product support. There is also some mention about 32 bit configurations and extras files.  All of this is worthwhile reading, especially the display settings. The collection of charts is quite extensive and have included everything you need for 15 of the airports/airfields that are part of this scenery package.
Installation and Configuration
The scenery download is large at 6Gbs. To make it more manageable it is divided into four files. The installer for the product is very simple to use. You first execute the "setup_VFRNCPX_part1.exe". As with their other products you are asked to choose whether you want to continue in either French or English and then to put in your personalized registration code. When that file has completed you will be prompted to run each subsequent file thru to completion. The installer will add the scenery to the FSX scenery library. There is no configuration panel however they do make mention in the manual about 32 bit configuration and Extras files. The 32 bit  configuration folder allows you some flexibility in what your system loads by being able to disable its entry on the scenery library. The Extras folder contains a number of files that when copied to the appropriate scenery folder will; add more objects to the scenery, add extra moving traffic and also add some additional night lighting. The details are explained in a readme file in the extras folder.
Flying the Scenery
These vfr v2 scenery products are pretty amazing when you look at what you are getting. In my opinion these products are cutting edge in what they give the FSX pilot in terms of visual bang for your buck. The scenery will push both your hardware and the simulator to the edge and then some. This is where you will need to strike a balance between what the product can provide and what your system can process.  But finding that balance and then experiencing the region is well worth it. This scenery is a vfr pilot's dream come true. Here are  few lines taken from the product manual that give you an idea of what you can look forward to: • Ground textures from 0.85 to 1 meter / pixel resolution from IGN aerial photography reworked for an optimal visual rendition in Flight Simulator X® (summer only). • Dedicated mesh with high definition 4.75 meters (LOD13). • Lakes and rivers with navigable waters fitting the texture. • Transparency management of the seabed on the entire scene. • Semi-detailed airports including flatten platform correction. • Obstacles and VFR landmarks modeled on the entire scene including the official SIA database (antennas, towers, water towers, wind turbines, various constructions …). • Hundreds of thousands of objects and notable buildings integrated into the environment (churches, power plants, silos, castles, industrial tanks, bridges, tolls, cranes, boats, streetlights, road signs …). • Integration of 3D Automation® technology allowing multi-million buildings and realistic vegetation areas fitting geographic specs. • Extremely dense and optimized vegetation coverage using a custom rendering module controlled by artificial intelligence (AI). • Autogen buildings including additional specific and optimized 3D variations. • Geo-referenced data for maximum compatibility with future add-ons installed on the same area. • Development process 100% Microsoft ® SDK specifications compliant, ensuring maximum compatibility with new releases.
The region's features can be appreciated from any altitude, but my preference was to fly low and slow. My aircraft of choice, although I flew several different aircraft,  was the CT210M Centurion II which I think is ideally suited for the product. It is after all a VFR product and so it only stands to reason that you might want to fly an aircraft that allows you to experience the full effect of the scenery's visual features. Using the recommended settings I took to the skies. If you don't know where to begin you can always consult the scenery coverage map and pick an airport. They have highlighted 22 in the map provided and they range from grass airfields all the way up to international multi-runway airports.
Taking off and gaining a bit of altitude you immediately see just how far they've taken the product with the newly developed 3DAutomation® technology. Structures of all sizes and types fill the villages, towns and cities. Residential, commercial, industrial or religious they're all represented, even lighthouses can be seen along the coast. Besides all of the structures the scenery is also filled with a wide array of other object types; light poles, electrical transmission towers, bridges, ships, gantry cranes and many more. Each time you fly around the area there is always something new that catches your eye. The density of all of these scenery objects is such that there is no way you could ever take it all in during a single flight.
It's not just the built up areas, the rural and coastal areas are filled with all types of objects as well. Even the forests are lush and densely packed with a variety of trees and vegetation. I made a number of flights around the entire area and was truly amazed at what I was seeing. Every time I took to the skies I saw something different. What do they use as a base for all of this? Accurate mesh and scenery textures based on 0.85 to 1 meter/pixel resolution IGN aerial photography. Here again some of the details were simply amazing. Railway lines, roadways of all types are all clearly visible and these are just a few examples.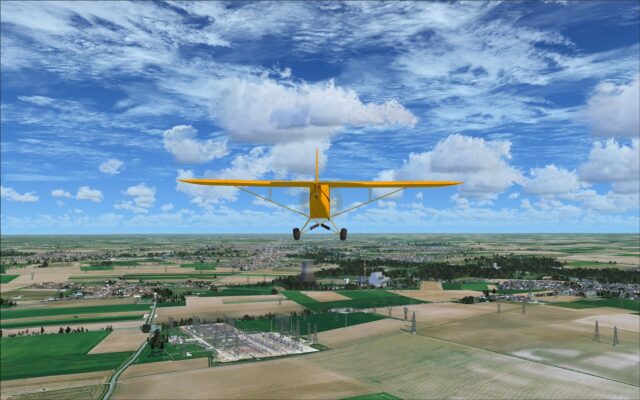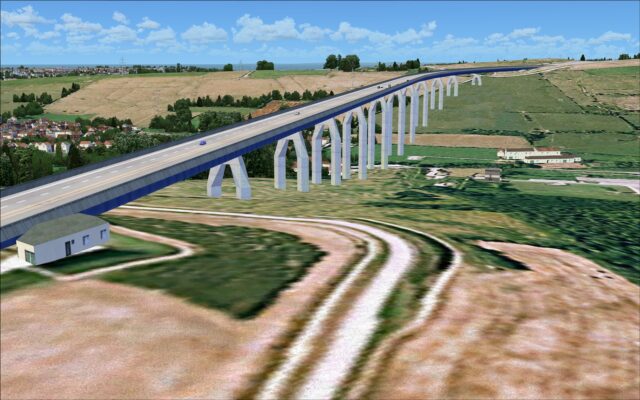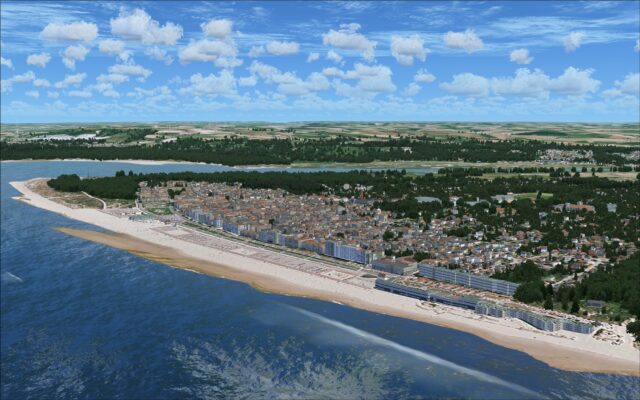 Farmers' fields which you might think would be boring with nothing special actually had some of the best examples of the imagery's high quality. The landscape is dotted with power lines of various types. These towers in turn cast shadows on the ground. The combination of these shadows along with the towers precisely placed overtop was quite impressive and very realistic. Another thing I noticed in several locations were the outlines of what I assume were bales of hay in the fields. Flying around the region was almost like one big Easter egg hunt.
Airports and airfields
Although the airports are really only a small portion of the overall experience and they may not be the main focus of the vfr products they still do matter. They state that the airports are semi-detailed and that their placement and layout is accurate. Each of the airports is definitely upgraded when compared to the FSX equivalent. According to the coverage map there are 22 airports that have been upgraded. These range from large multi-runway airports such as Lille-Lesquin (LFQQ) which is an international airport, and the 12th busiest airport in France, capable of handling commercial aircraft to small single grass strip airfields such as LF6251 which is suitable for small GA type aircraft. As I just stated they are better than default and it is the upgraded and more realistic looking buildings and additional objects that definitely add to the realism of each location. The buildings are much more representative for the individual airport and they suit the size and function quite well. As an example LFQQ has its unmistakeable wedge shape terminal and jet ways while a much smaller grass strip airfield might simply have a hangar, storage building and windsock. The airports are by no means payware quality and they never make that claim either but overall they look good.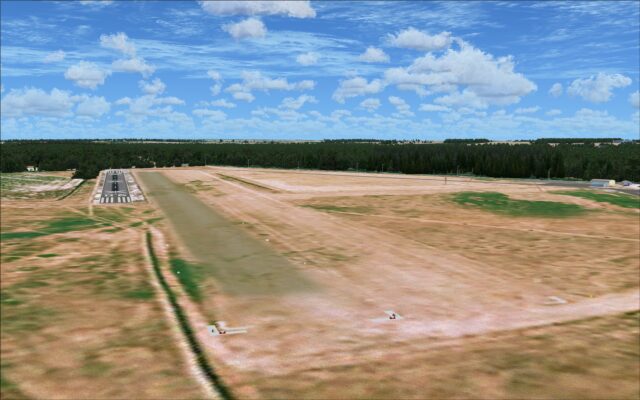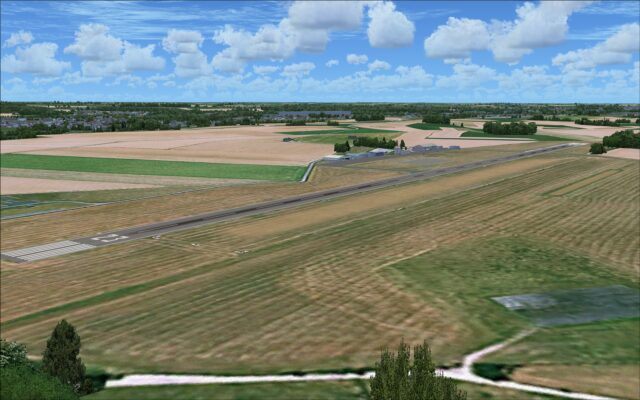 There is a point however that I need to bring up that I find annoying. When they create their airports, for whatever reason, they seem to like to use what looks like default textures for the hard surface runway and taxiway textures. Considering the quality of the rest of the product I wish that they'd update these textures to some that are a bit more realistic looking and not the ones they use that look like they were taken from FS2004. As well they need to find a way to blend them in better with the underlying ground textures. They always look disconnected. Grass and dirt strips use the high resolution ground textures so they don't suffer from this problem and look great.
As stated, the product comes with summer ground textures only.
Night Flying
Flying around Nord-Pas de Calais at night was also very enjoyable, overall the quality of the scenery experience wasn't diminished. Some of the highlights were; buildings of all sizes and types had their windows lit up. Tall obstacles such as transmission towers and wind turbines had warning lights. The only thing missing in this regard was the absence of any type of visible lighting from street lights. That would have been the icing on the cake.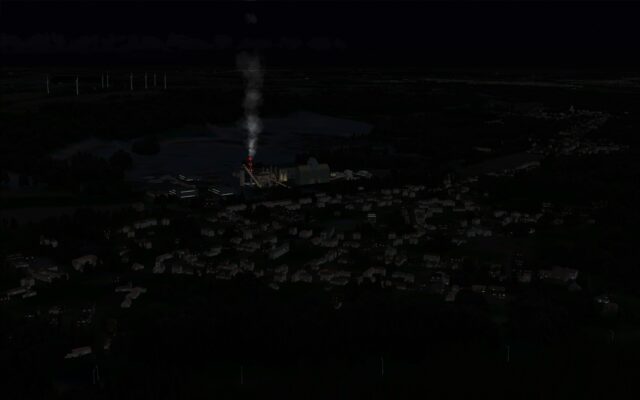 A small issue which was isolated to the airports was the lack of any apron lighting. Airports had ground lighting along the taxiways and runways and the buildings had interior lighting however there was no apron lighting.
Performance
You can't review a product like this and not talk about performance. I took note of the recommended settings and that is what I used throughout all of my flights. The only area where I ran into any real problems was when I was in the vicinity of Lille- Lesquin airport (LFQQ) and the city of Lille. When attempting to land the PMDG 737 NGX which is a complex aircraft I experienced several OOM errors. This is a large city with a high concentration of objects being injected into the scenery so I cannot say that I was surprised that it happened. I had to dial back my display settings and then I was able to fly my 737 in and out of LFQQ.
Final Thoughts
This scenery looks great from any altitude and that is testament to the high quality of this product. Make no mistake, it will tax the hardware you are running but your efforts will be rewarded with some amazing visuals. I was a huge fan of their first generation of vfr  products and now an even bigger fan of this next generation. If you have any inclination to fly over France you  will want to get this product. The sad part about this new class of product is that they currently cover only a very small portion of the country.
My Ratings
Installer:  Very good. Simple to use.
Documentation:  Very Good. Manual includes map of coverage area. Complete set of charts for 15 airports.
Modelling:  Very good. Hi-res ground textures, custom mesh and autogen.
Extras:  Many interesting objects and extensive coverage throughout the entire area.
Download Size: 6Gbs
Price: EUR 33.53 without VAT
If you had previously purchased FRANCEVFR – NORD PAS DE CALAIS FSX at simMarket, you are entitled to the special upgrade price of EUR 24.71 without VAT
Developer Homepage: http://www.francevfr.com/
Link: http://secure.simmarket.com/francevfr-nord-pas-de-calais-fsx-v2.phtml
Test System: Intel i7 960 OC @ 4.2 Ghz, 6 Gb RAM, Gigabyte GTX780 w3Gb video, Win 7 Ultimate 64, FSX w/acceleration, UT2, REX Overdrive, GEXn, UTX, AES, GSX, FSUIPC.
Richard Desjardins