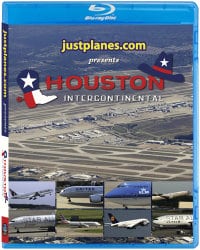 Have you already noticed that all Just Planes latest titles are Blu-Ray discs videos now ?
That's confirmed again today as both of their new entries in simMarket catalog require the BR player on your computer or home device.
Houston Intercontinental film shows ground operations, taxi and takeoffs / landings of many aircraft in IAH like the A380, 787 or 747-800.
In Vivaaerobus Boeing 737-300 video, you'll watch in detail the flight crew preparation, briefing, checklists and cockpit views onboard the Classic 737.