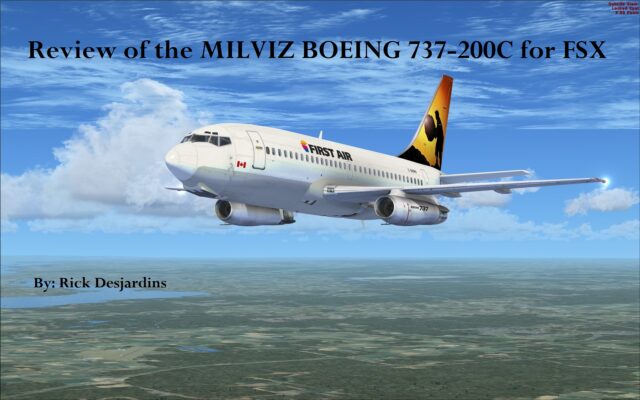 The Boeing 737 series aircraft is a short to medium-range twin-engine narrow-body jet airliner that also happens to be the best-selling jet airliner in the history of aviation. Milviz has chosen to recreate the 737-200c variant that originally entered service in April of 1968. In total 1010 of the 200s were built.
The 737-200c (Convertible) allowed the conversion between passenger and cargo use. An interesting capability of the 737-200, which is not shared with any other similarly-sized jet aircraft, is its ability to operate from unimproved or unpaved landing strips, such as gravel runways with the "gravelkit" modification installed. The aircraft can seat up to 136 passengers with a range of approximately 4,300 kms or 2,600 miles.
Even after more than 40 years some airlines still fly the 200 series jet.
Product features as listed on the developer's website
The B-737-200c model depicted in this package is a highly detailed replica of its real-life counterpart. The model was created by using high quality digital photos, plans sourced directly from Boeing and many, many countless hours of testing, revising and testing again!
The product includes a Universal 1LW FMC that is fully functional (given FSX's limitations) and is updateable via Navigraph support. This is operable ONLY with the SP-177.
A more "steam" based version is included with a SP-77 and no FMS for those who like it "old school"
Other outstanding features of this aircraft are:
-Realistic startup and shutdowns
-Realistic systems and avionics
-High quality external model using normal and specular maps
-High resolution paint kit
-High quality sound set recorded from a real B-737-200
-Custom realistic DX10/DX11 night lighting, landing lights and custom effects.
-Flight dynamics tested and tuned by real pilots. The aircraft flies just like its real world counterpart! By Tom Falley!
-Several liveries included!
Caveats:
No PDCS is included.
No Weather Radar is included.
For this review I have installed the MilViz_B737-200_v2.140618 version which is the latest update released on 23 June 2014.
Installation
Installation of the product was extremely simple. When you first execute the installer you will be faced with a screen that asks you to choose which simulator you are running, FSX or P3Dv1.x and if you want the high or low resolution textures. You'll also see that on this same page you can select to uninstall a previous version of the product. Useful if you are installing an updated version.
After making your selections and clicking next you will need to accept the terms of the license agreement. The rest is taken care of by the installer. When it is done a large information screen appears that tells you that they've created a desktop shortcut for the Milviz Menu Manager and also what it does.
Also for anyone who uses EZDOK they include their own custom camera configuration files. These can be found in a folder named EZCA Cameras which is a subfolder of the Milviz Boeing 737-200 aircraft folder under Simobjects in FSX.
As you may have noticed this installer only supports FSX and P3Dv1 so if you have P3Dv2 a separate version must be purchased.
Documentation
With the product you get seven PDF manuals. There is the main FCOM Boeing 737-200 manual which is a whopping 860 pages and is the Boeing 737-200 Flight Crew Operations Manual. For the next three; Full AP Ops, Full Start & Shtdwn and Instrmnts – Pnls & Ign; they've extracted specific portions of the main FCOM manual. They also include three custom documents; Milviz_B7372_Rev_b, SP-77 Autopilot and Universal FMC User Manual. Each one of these was informative and proved to be valuable reading. There is definitely lots of reading material with this aircraft and they cover just about everything you need to know to operate the 737. I especially liked their comprehensive and easy to understand explanation of the FMC. I was however slightly disappointed in one area. For some reason they neglected to provide any material on the SP-177 Autopilot. Including something on this important piece of equipment would have been nice.
Configuration
When the product is installed you have access to the configuration utility via a desktop shortcut, this is the Milviz Addon Manager. Opening it up you'll find that there are three pages.
The first page allows you to choose your livery and how each is configured. The choices are; passenger, combination or freight. Each one of these can also be fitted with the gravel kit. This is also the page where you will make your choices as they relate to the autopilot and FMS. The choices are: Sperry 77, FMS/Sperry 77 and FMS/Sperry 177.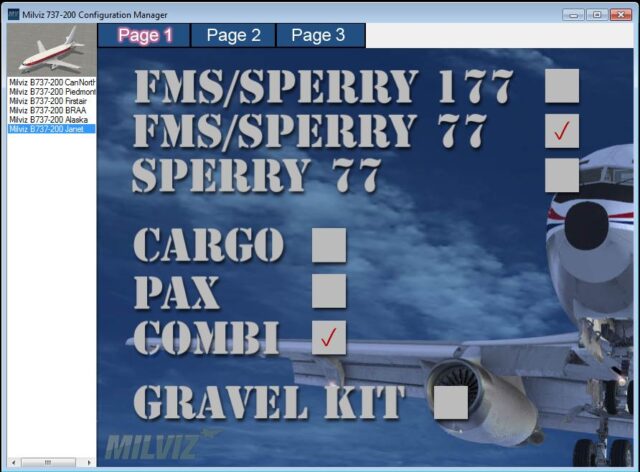 On the second page you will set your fuel and payload. You can also choose the unit of weight and the initial state of the aircraft; ready for start, cold and dark and ready for take-off. This page will also vary depending on the configuration you chose on page 1.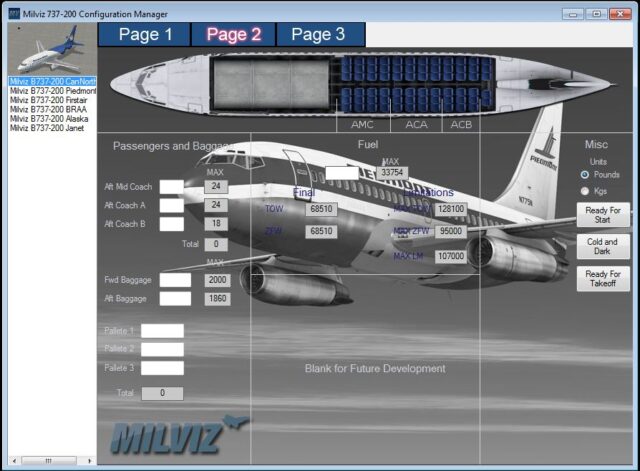 The third and final page is where you can set control wheel steering deadzones and control wheel steering damper. I never made any changes to this page using the default settings.
The only thing you need to watch with these pages is that you have the livery you're wanting to use in FSX selected when you make your choices as each livery is independently configured. As well, all of this needs to be done with FSX closed. Changes will take effect the next time you start your simulator.
The add-on manager is a great tool that makes this a versatile aircraft suitable for a wide range of tastes.
Exterior
The base product includes six different liveries; Canadian North, Piedmont_pax, First Air, Braathens_combi, Alaska Airlines and Janet_pax.
I thought that the quality of the models was excellent, very realistic and representative of an aircraft that would have seen plenty of service; each one has a weathered look. If you're the type of simmer who likes to count rivets I don't believe that you'll be disappointed. They include lots of intricate detailing as well as smooth animations for flaps, landing gears, reversers, doors and stairs to name just a few.
You could never accuse Milviz of creating a clean and sterile looking cockpit. This one definitely shows signs of wear and tear and the many hours of flying time that these cockpits would have endured. Chipped, worn paint and dirty surfaces are everywhere. Makes you think that none of these airlines had any money in their budgets to clean or perform any sort of housekeeping.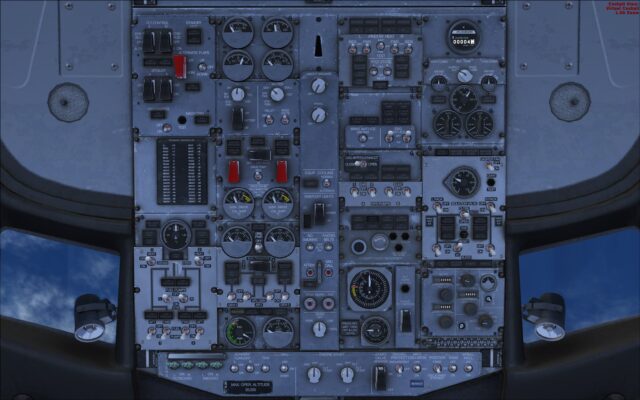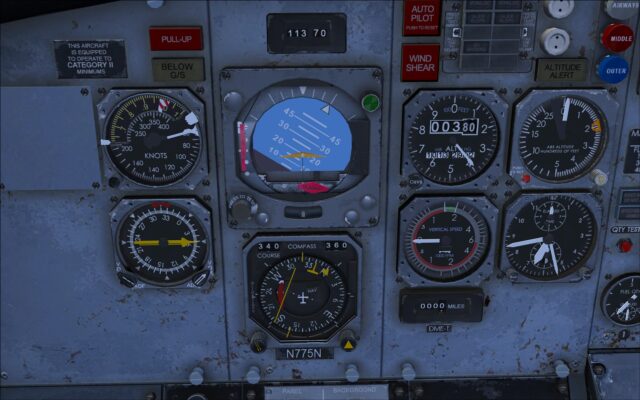 I've read comments from others stating that the cockpit graphics aren't as hi res as some other recent commercial jet releases. In some regards that is true but overall I thought that they were very good. Even when viewed up close the textures were crisp and clear. The only area where the quality seemed to be lacking was when looking at the toggle type switches up close. They didn't have the smooth rounded contours that were found in other parts of the cockpit instrumentation. I found myself spending much more time looking at the gauges than the switches on the overhead panel so the less than optimal renderings of those switches, I believe, could be overlooked.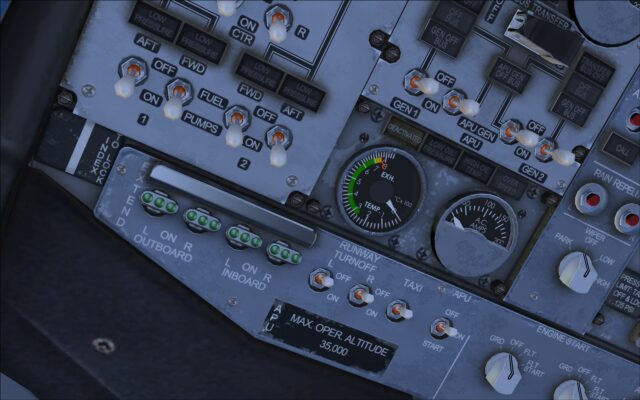 This is an aircraft that is outfitted with older technology having analog type displays throughout the cockpit. With the old style gauges an important factor is the fluidity of the gauge movements. They were definitely very smooth and very realistic and Milviz absolutely delivered in this regard.
Night lighting in the 737 cockpit was very good. In this aircraft you have the ability to smoothly adjust the intensity level of both the panel lighting and the flood lighting in every area of the cockpit panels.
Jet liners are complicated beasts that employ a host of diverse systems that control and/or monitor such things as flight controls, landing gear, electrical, hydraulics, avionics, fuel, power plants, navigation, communication and more and the Boeing 737-200c appears to have all of them. In creating a product such as this every developer must try and realistically mimic the characteristics of the aircraft, and also wrestle with the question of just how complex they want to make their aircraft, and in doing so how to implement the functionality of all of these various systems. Milviz, in my opinion, have found a good balance of complexity and functionality to satisfy a very wide spectrum of users. I can't comment on how well such things as fuel flow rates or hydraulic pressures are reproduced I just know that they all appear to function as they should.
If you are the type of person who wants to follow checklists and flows you can do that or if you are like me and typically want to have engines running and ready to program the route you can do that as well. All of that is possible via the Milviz addon manager.
Configurability and choices with regards to auto flight functionality are an integral part of this addon. They give you choices that will result in very different experiences not to mention your workload. The first option is with the UNS-1 FMC and Sperry 177 AP. This lets you take advantage of some advanced technology so you can fly it much as you would any other modern day jet liner. The second choice lets you program the FMC but use the older Sperry 77 AP. In this configuration the FMC does not interface with the AP, obviously presenting more challenges for the pilot. The third choice has no FMC with only the primitive Sperry 77 AP.
One important system that has not been modelled is the PDCS (performance data computer system). From what I understand it is used to guide the pilots through the usage of correct and economic thrust values, EPR settings and also set up ref speeds. They have not modelled it and that is made very clear from the outset. Take-off and landing ref speeds can be found in the manuals provided.
Flying the Aircraft
After having explored the aircraft from a visual point of view now it was time to experience what it was like to actually fly the aircraft. Not being a real world pilot I had to rely on the credibility of the developer's work, the documentation and my experiences flying other aircraft within FSX to make my observations. I also asked myself several questions; did the experience seem realistic, did it meet my expectations and was it enjoyable?
Before you even start FSX you will need to open up the configuration manager and make some choices for the aircraft you'll be flying. You will need to select such things as the start state of the aircraft, the aircraft type, ie., pax, cargo or combi, is it outfitted with the UNS-1 FMC and Sperry 177 or 77 AP, fuel and payload, etc. All these choices are straight forward and easy to make. Once you do that it's time to start FSX and set up your flight using the livery you have just configured.
During my testing I completed several flights using each one of the different start up states and found that they worked as expected. When choosing the cold and dark and the ready to start I followed the instructions as per the Milviz_B7372_Rev_b manual finding them easy to follow and getting the expected results each time.
Depending on your choice of FMC/AP combination or lack thereof you may or may not be programming your route in the FMC. I chose to fly the majority of my routes utilizing the FMC/Sperry 177 combo. I did fly several with the Sperry 77 to experience the older technology.
With the FMC and Sperry 177 combo you have the benefit of a flight computer linked to the AP. The Sperry 177 in many ways resembles the MCP of the more modern Boeing 737 series jet liners.
If you've flown the newer 737NGX you'll find that the FMC is quite different from what you might be used to. This is where the included Universal FMC User Manual became in invaluable tool. The way that they take you through the steps to enter all of the route data was really user friendly. They made what could have been a difficult task into one that was simple and logical. I had no problems programming my routes or utilizing its functionality. Setting up the Sperry 177 was also pretty straightforward as it is very similar to the one found in the newer 737NGX.
The Sperry 77 AP is quite rudimentary with much less in the way of preflight set up. The included document does a very good job of describing its functionality.
In addition to the above pre-flight preparations it was also necessary to set my V speeds. This can be done by checking the performance tables or utilizing a nice little tool that a user has created that goes by the name; v-one gauge. It is available for download via the Milviz forums. With this tool you get instant access to V1, Vr and V2 speeds, trim settings, etc. It does require some copying and pasting of information to install and get it up and running so backing up any files that will be modified is a must before you make any changes.
With all of the pre-flight set up complete it was time to get this aircraft into the air. Advancing the throttles I was immediately impressed with the sounds of the engines spooling up. I got a sense of the power as the aircraft began to roll down the runway and then accelerate to Vr. Raising the nose it began the ascent and I was off the ground and in my climb. The take-off phase is always a favourite of mine, I enjoy the sights and sounds. I found that the aircraft was responsive but also got a sense of its weight, the feel of the aircraft was quite realistic I thought. Just as I would have expected it to be.
After take-off the work load varied based on the choice of AP and the FMC. I really liked the UNS-1 and Sperry 177 combo. They were both easy to use and controlled the aircraft quite well being able to follow my planned routes without any problems. During my flights I experimented with changes to my heading, altitude and speed to see how the AP would respond. The aircraft responded very well and was able to execute each one of the course changes.
Hand flying this aircraft was also a pleasure. If you are the type of pilot who likes to take the reins I am confident that you won't be disappointed. It reacted in a way that I was able to get a sense of its size and power.
For the landing phase of my flights I executed several ILS and visual approaches at different airports. For the ILS approaches the aircraft was able to capture and execute the approach bringing me down and on track. For the visual approaches the aircraft responded well to my manual inputs.
Looking back at the flights I completed I'd have to answer a resounding yes to the questions; did the experience seem realistic, did it meet my expectations and was it enjoyable?  Throughout all phases of flight it was an absolute joy to fly!
Sounds
I thought that all of the sounds seemed realistic and were what I would expect to hear both while seated in the cockpit and also when outside of the aircraft.
Performance
I saw no impact on performance while using this aircraft.
Final Thoughts
I thoroughly enjoyed flying the Milviz 737-200c and highly recommend it. I felt that the overall look and feel of the aircraft were realistic and that the developers found a good balance between complexity and usability making it a great fit for every level of pilot, and also very importantly lots of fun to fly.
My Ratings
Installer: Very good. Simple to use.
Documentation: Very good. Informative including Boeing and Milviz custom documents.
Modelling: Very good. Excellent detail and smooth animations.
Extras: Addon manager provides for flexibility in configuration of the aircraft.
Download Size: FSX 409 Mbs
Price: EUR 37.00 excl. VAT
Developer Homepage: http://www.milviz.com/
Link: http://secure.simmarket.com/milviz-boeing-737-200c-fsxp3d.phtml
Test System:
Intel i7 960 OC @ 4.2 Ghz, 6 Gb RAM, Gigabyte GTX780 w3Gb video, Win 7 Ultimate 64, FSX w/acceleration, DX9, UT2, REX Overdrive, GEXn, UTX, AES, GSX, FSUIPC.
Richard Desjardins