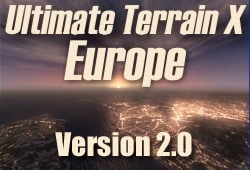 Scenery Solutions, through Flight1 Software, have released version 2 of the Ultimate Terrain X package covering the continent of Europe.
The package has been 'designed from the ground up' to take advantages of the capabilities of the host FSX, FSX SE or P3D package. Click "read more" for full information.
Ultimate Terrain X Europe Version 2.0 Released
Flight One Software, in cooperation with Scenery Solutions, is proud to announce the release of Ultimate Terrain X Europe Version 2.0!
Ultimate Terrain X Europe V2 has been designed from the ground up to take advantage of the new technologies in FSX, and provide you with the most superior and complete large terrain environment to date. As always, we use only the highest quality commercial source data in our products.
New for UTX Europe Version 2.0 is that we have replaced the entire road data set for Europe, resulting in 15-30% more roads. Three times the number of roads have been added to Poland, and Greece has received over ten times the road coverage from version 1.0. Some countries previously with only major road data now near 100% coverage.
This major upgrade also provides brand new autogen lighting that is completely configurable, allowing users to tweak their night environment to meet their own personal desires using our new custom interface. Ultimate Terrain is well known over the years for its configurability and the new night lighting interface adds to that standard.
Also upgraded in V2.0 is the "Landclass" system. UTX Urban Landclass has been redesigned using new commercial data that precisely marks off nearly urban all areas that contain buildings. The accuracy of this source data allows for a much better selection of appropriate landclass textures from the choices available within FSX. Scenery Solutions has also upgraded the vegetation portions of the landclass in UTX Europe V2.0, making UTX Europe V2.0 a complete landclass solution for FSX.
High resolution road textures, over 173 additional corrected airports, over 275,000 bridges, over 50,000 dark tunnel entrances, waterclass, object repositioning, and ground textures for specialized areas are just some of the other features that are also included in Version 2 of this stellar product.
UTX Europe V2.0 is our first product to include native support for all available platforms in a single package using our new Install Manager process. Native support is now available for all of the following simulator versions: Boxed FSX Version, FSX Steam Edition (with or without prior FSX installation, Prepar3D V2.1 – V2.4 and the new Prepar3D V2.5
For additional detailed information, including a country-by-country listing of enhancements, see the link below in our support forum.
http://www.simforums.com/forums/utx-europe-v20-released-now_topic51789.html
For information on ordering, screenshots and to purchase Ultimate Terrain X Europe Version 2.0, point your browser to the following: http://www.flight1.com/products.asp?product=utxeurope For this and other Ultimate Terrain X products, please visit www.flight1.com