At the end of March, Aerosoft released their latest and northern most offering for Norway: Alta X. Considering previous releases from the same developers in this region, expectations are high. So let's take a look!
Alta is the name of both a town and a municipality in Northern Norway. At 69° 58' of northern latitude, it's located well inside the arctic circle. It's the most populous area of the Finmark county in Norway. At around 15 000 inhabitants, Alta is considered the northernmost city in the world with more than 10 000 inhabitants.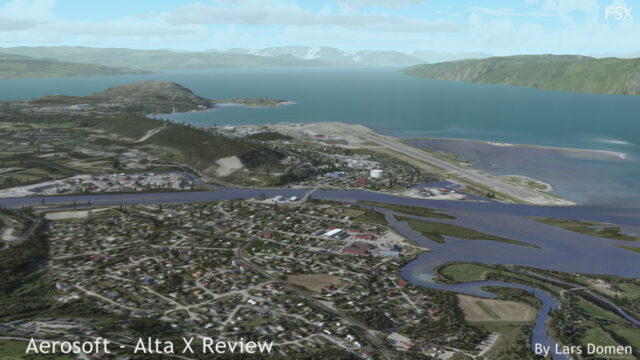 Alta Airport (IATA: ALF, ICAO: ENAT) serves the Alta region, and also serves as a hub for short range regional flights to the neighbouring areas. It has a single 2 253m (7 392ft) runway numbered 11/29. Due to high terrain in the vicinity, precision approaches are only available for runway 11, with only VFR or circling approaches available for runway 29. Alta Airport handled just under 400 000 passengers and 12 000 aircraft movements in 2015.
Installation:
Aerosoft Alta X is available for €15,08 (excluding VAT), which isn't a bad price at all. The product is compatible with FSX (SP2 or Acceleration), FSX Steam Edition and Prepar3D version 2 and 3. A small remark is that the system requirements only mention P3D v3, while the installer also has an option for v2.
The download is a rather big 1.87GB, and you'll need 4.9GB on your hard drive for the installed product. It'll be rather clear from these sizes that the scenery product extends beyond the borders of this rather small airport.
The installation process is the usual from Aerosoft, just requiring an email address and the serial you got at purchase. An extra step though, is that the installer also launches the SODE (Sim Object Display Engine) installer,  as that utility is required for Alta X. Unfortunately, the installer doesn't quite make it clear which exact subversion of SODE v1.3 is installed. To make sure I had the latest version, I reinstalled SODE with the latest installer available online.
Scenery:
First impressions of the scenery are very good. You'll immediately notice the outstanding quality of the modelling, and the consistent and beautiful textures. Indeed, both quality and 'atmosphere' of the product are of top of the line.
Ground surfaces, buildings, objects… It's all there in outstanding quality. Alta isn't a big airport, but this product certainly is big in details. And it doesn't stop at the airside. The detail extends to the landside of the airport, with car parking and some industrial buildings. The overall result is outstanding.
There are so many small details covered, that it's impossible to even come close to listing them all. I've got the feeling I didn't even notice half of them yet. But no matter how small the detail, the quality in terms of modelling and texturing remains above par.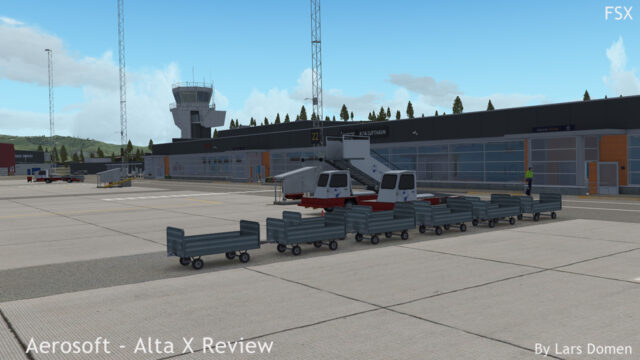 The ground textures in this product extend quite a lot past the airport, also covering the residential areas in the neighbourhood, and the immediate approach routes into the airport. This area is also covered by autogenerated scenery objects. Lots of buildings and even more trees to be found here. This results in a very immersive experience when flying in the immediate vicinity of Alta Airport.
Considering the location of Alta, both winter and night environments are an important aspect of this scenery. And they don't disappoint either. The entire airport is affected by the season, resulting in a fresh green look in summer, but a very white one in winter. It's not limited to the ground textures either, but the buildings and even aprons and taxiways show signs of snow.
The story at night is similar. A very nice environment with lots of attention to detail. If you decide to buy this airport, you should really visit it in the dark some time! Not hard to, considering that it's inside the polar circle, so it never gets brighter than twilight in winter. Of course, the reverse happens in summer.
I do have a slight remark about the lighting. But not the lighting found at the airport. There are lead-in lights placed on poles to guide pilots on the visual approach to runway 29. They're there in the scenery. Unfortunately, they're so dim they're of no use in flying the approach in the sim. Now, lighting in FSX (and related sims) is always tricky, often showing different on different systems due to hardware and driver variations. But those lights being very dim was the experience on my system.
There's a quite technical aspect of this scenery that needs to be mentioned as well. This is the fact that the airport isn't actually FSX/P3D terrain with models on it. Instead, the entire airport, including the ground, is modeled in 3D, and placed slightly above the flat FS terrain. If you know what to look for, and look very closely, you can see the seam where 3D model and 'classic' terrain come together in some places. (You won't notice in regular use.)
This approach gives the developer a whole lot of control over the scenery, more than would be possible with more conventional approaches (especially with SODE, see below). One slight drawback to this approach I noticed is that helicopter rotor down-wash effects don't work at the airport. Similarly, there is no difference in the sim between driving on hardened surfaces and driving on soft terrain. Not a huge problem, but good to be aware of nonetheless.
Alta X and SODE:
When talking about Alta X, we have to talk about SODE too. The SimObject Display Engine is a donationware plugin for FSX and P3D that uses the more powerful simobject features in those simulators to overcome to limitations of scenery objects. Think of triggerable lights and doors, weather dependent animations or showing different objects depending on season.
SODE itself has a bit of a mixed reputation it seems. Some people swear by it, others vow to never buy any scenery that uses it. It appears that those bad reactions are mostly coming from people who've had a bad experience with it. What I've read online seems to mostly come down to installation, activation and upgrade issues in older, less mature versions.
While Alta X was my first experience with SODE, the latest versions (version 1.3 and up) seem mature and stable. I've had no issues whatsoever with this install. Luckily, as Alta X requires an active and working SODE. It won't show any scenery without it running.
While user interaction with the airport is limited to a single hangar on which you can open the doors, SODE does a lot more for Alta than immediately apparent. That snow on ground and buildings in winter, which are clear in other seasons? SODE. The detailed animated traffic on the airport? SODE. Even the clock on the terminal, is driven by SODE. Well, at least I think it is. Whatever it is, the amount of dynamic changes on this airport is great.
Extra's:
Aerosoft Alta X comes with a configuration tool that lets you tweak the scenery to your liking. For example, it asks whether Orbx FTX Norway is installed, for better blending with that product if it is. You can tweak the quality and resolution of stuff like the animations, night textures and specular mapping.
Finally, you can turn on or  off both 'interior models' and 'static shadows'. The interior models cover the terminal interior. It's nice to have it, but not something that's absolutely crucial if you run into low performance, in my opinion. The static shadows option is interesting to have. It allows you to enable this to make the scenery look more realistic if you have dynamic shadows turned off in the simulator. On the other hand, if you have dynamic shadows turned on, having static ones as well wouldn't look great, so you can turn them off.
Finally, Alta X comes with 2 PDF documents. The first is a very basic manual in both German and English. It covers the basics like installing and uninstalling the scenery, the history of the airport as well as a 'fact sheet' with elevation and frequency information. Finally, it also covers the configuration tool and provides some extra information about the different options. A basic but to the point manual. The only thing I'm missing is a bit more about SODE for novices like me.
The second PDF contains charts for the airport. The charts are provided by Lufthansa Systems FlightNav Inc., and are of great quality and clarity. They are dated September 2015. As far as flight simulation charts go, this is quite recent, and should be sufficient for all simulation needs. If you're someone who likes the most up-to-date charts there are, you probably already know where to get those, so…
Conclusion:
With Aerosoft Alta X, you get a small but capable airport in the high north of Norway. The coverage is good, the quality outstanding. It uses the SimObject Display Engine to great effect. No matter whether what season you fly in, what time of day, or what weather, Alta looks great. And this without external 'season switching' utilities. If you're wondering about buying, the only question you should ask yourself is the following: "Will I fly to this remote airport often enough to motivate the purchase?" Because if you do, both the price and quality are really nothing to worry about in my opinion.
Like:
Outstanding visual quality
Good performance
Seamless 'in sim' season switching
Don't like:
Lead-in lights to runway 29 very dim on my system
Useful links:
Test System:
Intel Core i5-2500K @ 4×3.3GHz
8GB DDR3 RAM
MSI GTX 960 Gaming 2G
Windows 7 64 bit
FSX Deluxe + Acceleration
Prepar3D v3.2
Software Used:
A2A Simulations T-6 Texan
Active Sky Next
Aerosoft Airbus A319
Dodosim 206
FSFX Packachges 737 Immersion
FSFX Packages PrecipitFX
Majestic Software Dash 8 Q400 Pro
Orbx FTX Global
PMDG 737 NGX
Real Environment Extreme Texture Direct + Soft Clouds
Ultimate Terrain X Europe v2