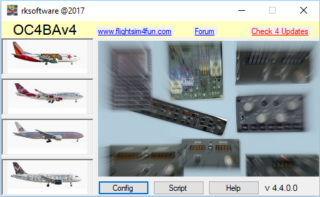 In order to use the hardware modules of Opencockpit combined with the PMDG 737 NGX, you may need special software to ensure the communication.
RKSoftware is pleased to announce the new released OC4BAv4 homecockpit software suite that let you build a B737-600/700/800/900 home cockpit. All functions of the PMDG model can be controlled through Opencockpit units then.
Press release :
All PMDG B737NGX cockpit functions can be controlled with the Opencockpits hardware modules like, OVH-AFT, OVH-FWD, MCP, EFISs, MIP, CDUs, Throttle Stand and Pedestal.
The OC4BAv4 comes with an easy configuration module to let you start flying with your cockpit hardware modules with just a few mouse clicks.
Owners of the OC4BAv4 can also expand the usage of their Opencockpits hardware modules to control their PMDG B777 and PMDG B747v3 by adding additional software drivers.
Building your B737 home cockpit has never been easier and it will give you an immersive flight sim experience that is close to the real thing.
Visit www.flightsim4fun.com to get more detailed information about OC4BAv4 and other software drivers for XPLANE 11.
rksoftware