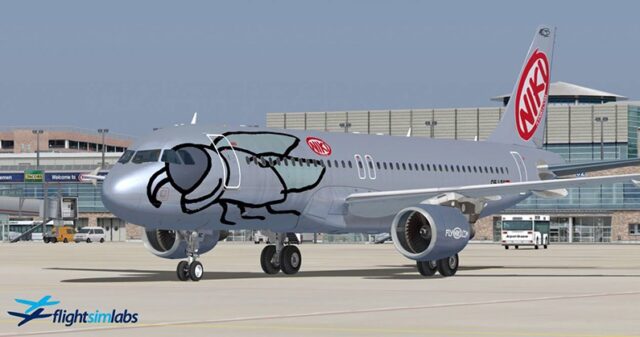 The new feature that will be included in the A319-X (expansion for the A320-X) has been revealed by FSLabs : actual icing simulation of the airframe.
"Ice, frost and contamination" can appear depending on the current weather conditions in the simulator. http://www.flightsimlabs.com/
Full press release copy :
"Flight Sim Labs today announced the development of a brand new airframe icing model for their upcoming A319-X expansion.
For the first time in a modern jet airliner add-on, simmers will be faced with one of the top threats to aircraft safety on a day-to-day basis, yet one which until now has never been fully modelled in the FS environment.
The ground-breaking new icing model has been custom-built by the FSLabs team and includes a number of never-seen-before features. Ice, frost and contamination will build up and melt dynamically on the airframe based on actual in-sim atmospheric conditions including temperature, humidity and sun elevation, as well as internal factors such as fuel temperature and realistic 'cold soak' effects – which have been re-designed specifically for the A319-X using intricate thermal models and data collected from a huge number of real world test flights.
Most importantly, the effects of ice on aircraft and engine performance have been fully modelled to produce truly realistic outcomes. In the past, some developers have used a brute-force approach to icing simulation by simply adding a huge amount of weight to the aircraft. In reality, however, the greatest danger from airframe icing is in the destruction of the smooth airflow over the wing surface. Studies have shown that even a small amount of ice can reduce lift and increase drag by more than 40%.
By using a unique dynamic performance model, FSLabs have been able to replicate these effects.
Simmers will be able to see ice forming on the A319-X in real time thanks to FSLabs' pioneering new visual effects techniques. The walkaround is a critical part of the pilot's task, performed before every single flight – and for the first time, A319-X pilots will be able to inspect their aircraft to ensure it is safe to fly. The wings, tail, fuselage, engine nacelles and spinners must all be checked to ensure they are free of ice and contamination.
"The biggest consideration is the departure," says Captain Peter Banner. Peter flies the A319, A320 and A321 for a large UK airline and is part of the FSL technical team who help verify the A319-X's performance against real world data on an ongoing basis. "Having ice or snow on the flying surfaces will degrade the aircraft performance. So, pre-flight a good check of the weather actuals and forecast so that you can make a plan is a good start.
"Things to decide are what de-icing may be required, what has already been done, and maybe some 'what ifs'."
This is where FSLabs' unique de- and anti-icing simulation comes in. Select the type of fluid and the level of dilution required and the ground crew will apply the anti-icing treatment in real time, removing any built-up ice. But it doesn't end there – with a fully realistic, dynamic hold-over time simulation based on external conditions as well as fluid type and concentration, once the treatment starts it's a race against time to get airborne before the holdover time expires and dangerous deposits begin to build back up again.
"Hold over times, are a guide only," continues Peter. "Changing actual conditions could change the initial calculations and a pre-departure check is always required. This can be from the flight deck if the initial conditions have remained the same or are better. If they are worse, though, then a visual check from the crew outside or a pilot from inside the cabin is required."
Once in the air, pilots will need to rely on their knowledge and experience to identify icing conditions and activate the A319-X's anti-icing systems to protect the airframe from icing up, as Peter explains.
"As soon as icing is seen on the icing probe, wiper blades or wing leading edge, get the wing anti-ice on.
I personally then leave this on until I am sure it's not an issue. I try to have wing anti-ice off for the landing itself, although it can remain on if required."
Just like Peter in the real aircraft, in the A319-X you'll be able to see ice building up dynamically on the flight deck ice probe – a small stub protruding from the centre windscreen post – or the electronic ice detectors fitted to some A319s, which display an ECAM alert when ice is detected, can be optionally enabled.
"This is a truly unique feature," said Flight Sim Labs founder Lefteris Kalamaras. "It's something that we really wanted to focus on as a team as it really adds to the immersion factor.
"Pilots in the real world have to deal with the potential for icing during their day-to-day operations – it's a really important part of operating the aeroplane.
"As a simmer, the A319-X will enable you to experience this in a truly realistic way."
Amongst other, yet-to-be-announced features, the A319-X will feature all-new engine and performance models for both CFM56-5B7 and IAE V2522-A5 variants, as well as a new aerodynamic model reflecting the structural differences between the A319 and its larger cousin.
The A319-X will be available as a paid expansion to the Prepar3D v4 version of the A320-X."