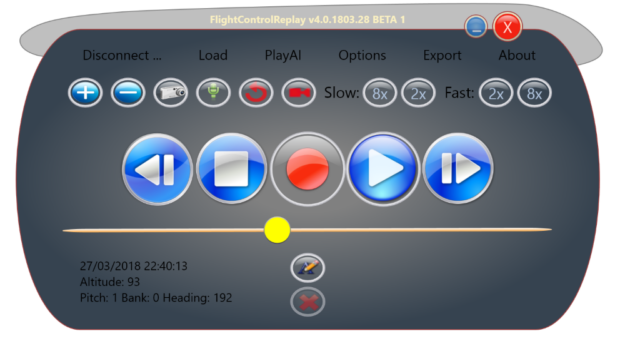 With the latest update version 4 for FlightControlReplay tool by Fabio Merlo, several new features have been introduced :
re-live instant replay : get back in time up to the last 2 minutes of your flight and resume
Enhanced support for advanced airliners : QualityWings 787, PMDG 737 / 777 / 747, Majestic Q400
In-Game Dynamic Text during Replay : display and edit texts for the video replay
PlayAsAI : record a movie from an AI aircraft point of view
After a lot of months of analysis and requirements collection from actual Users and from Beta test team,  I m proud announce new major version of FlightControlReplay Professional Edition.
FlightControReplay v4 introduce a new installer that it contains 2 FlightControlReplay v4 version.
FlightControlReplay.EXE it works with all version of simulator engine (PREPAR3D v4 / v3 /v3 /v1, Microsoft FSX, FSX:SE, Microsoft ESP)
FlightControlReplayP3DX.EXE (P3D Enhanced version) it works with Prepar3d v3 and v4 in a native way , using new Prepar3d SDK and optimizing replay algorithm for Replay and for PlayASAI feature reducing jitters and improving performance.
Flight Control Replay is a software that it permits to record and play flight situation in PREPAR3D v4.X / v3 /v3 /v1, Microsoft FSX, FSX:SE, Microsoft ESP but in v4 introduce chance to Re-Live Instant Replay and Re-Start a flight from a user defined time slot and many more features listed below like In-Game Menu (User can Record and Play directly from main Flight Sim UI), PMDG enhanced recording and playing , Majestic Q400 Enhanced suport, FSFX Immersion effects support, Video Rendering Feature (in a not compressed format) , P3D Enhanced version of FlightControlReplay developed in Native way for Lockheed platform etc
This FlightControlReplay v4 version use the last technology of internally developed engine SimFramework that it brings a lot of new Features that help all customers to record, play, analize, Re-Live a moment .
New Flight Control Replay v4 is here! New features implemented in this new version are:
– Re-Live InstantReplay. User while flying, using FlightControlReplay in InstantReplay mode, can go backward for last 2 minutes of his flight and if he want , he can RESUME HIS FLIGHT FROM ANY YELLOW SLIDER POINT simply pushing Stop Button.  (Below a screen)
NEW with v4
– Rendering Video (Alpha). User can start Video Render pushing dedicated command bar button. In that way FlightControlReplay starts video capture of Simulator Main Camera View. At this time this feature is in Alpha stage. Video render creates an AVI file uncompressed in Windows User Pictures folder, named with a TimeStamp of start video rendering. In Options Dialog, User can change FramePerSecond of rendering (15-30) and Quality recording percentage (10-100). FILE AVI IS UNCOMPRESSED (ALPHA) AND CAN BE VERY BIG. This feature can be very useful for video makers used both with "PLAYMODE SIMULATION RATE" feature.  NEW with v4
– PMDG 737 / 777 / 747 enhanced recording and playing. User can record and replay his Flight using PMDG planes with more accuracy.
NEW with v4
– In-Game Dynamic Text during Replay. User can write Notes at any point in a Replay Flight loaded in FCR using Dynamic Text buttons that appears below Yellow Slider when User loads Flight Recorded. At this manner User will able to pause Flight Recorded at a custom point into timeline and clicking DynamicText edit button or delete button User can add , modify or delete notes.  This Notes will be visible in FCR User Interface and also in Simulator playing Replay Flight. Dynamic Text can be customized via FCR Option dialog (Show duration in Seconds, Text Type and Text Color). (Below a screen)
NEW with v4
– PLAYASAI (Alpha Optimized using FlightControlReplay P3DX Enhanced Native version). User can choose and play your preferred Recorded Flight as AI Traffic. You have all options available that you already have in standard playing mode,  change simulation rate on the fly or use User Interface Yellow Slider for choose exactly where your AI Traffic can start his flight. You can manage more than one recorded flight as AI Traffic using more than one instance of FCR addon at the same time. NEW with v4
-FSFX IMMERSION EFFECT COMPATIBILITY User can see FSFX Immersion effects in his airplane! Also during FlightControlReplay Play!
NEW with v4
-MAJESTIC Q400 ENHANCED SUPPORT User can Record and Play Flight Situation also with this fantastic plane! Thanks to Majestic
Software collaboration!
NEW with v4
-HELICOPTER ENHANCEMENTS User can Record and Play Flight Situation also with Helicopter!
NEW with v4
-QUALITYWINGS 787 ULTIMATE COLLECTION ENHANCED SUPPORT User can Record and Play Flight Situation also with !
NEW with v4
Flight Control Replay Professional bring a new way to record and play flight situation with a lot of other features like Voice recognition, Hardware button support, Xbox One Controller support , third party aircraft support, trigger support, time slider support and so on
Lockheed Martin Prepar3d V4 full Compatibility
PlayAsAI(Plasy as Traffic) . User can choose and play his preferred Recorded Flight as AITraffic. You have all options available that you already have in standard playing mode,  change simulation rate onthefly or use User Interface Yellow Slider for choose exactly where your AI Traffic can start his flight. You can manage more than one recorded flight as AI Traffic using more than one instance of FCR addon at the same time.
PlayMode Simulation Rate. User can modify SimulationRate (during the PlayMode) using 4 buttons in main User Interface (2x,4x,Slow and Fast). This permits for example to compose a video or analyze in a better way a flight.
Multi Instances. Thanks to the system architecture renewed now you can manage more than one instance of FCR at the same time.
Export recorded Flight situation for view it in Google Earth 3D and Google Maps 2D.
User can choose sample rate for record a flight (6 times per second , 1 time per second, Custom Visual Frame per second, every 4 seconds and Automatic ).
Custom Altitude Trigger Value for Start Recording. User can choose at which Altitude (Above or Below) the system can start record flight.
Voice Command Recognition for all record and play features of FCR. Now you can speak to software and it records, play, go forward and go backward according with your voice command.
Record a flight situation and also your voice during flight.
Enable / Disable Voice recognition directly with a button in main User interface.
Record a flight info with unlimited length (Aircraft model , position, heading, bank etcetc).
XBOX ONE S CONTROLLER support for move timeline slider and / or map buttons for        Play / Record / Stop / Pause features.
Play / Pause saved Recorded flight in original Flight Situation (if available).
Fast forward backward play.
Start flight from an entry point of a recorded flight that user can define.
User can change camera view from FCR client.
Stop playback at any position to continue manually with FCR yellow slider.
Show time stamp inside Flight simulator during play.
User can define an hardware shortcut for start / stop recording, start / stop playing and forward and backward (this is useful if users use full screen FlightSim option)
User can choose custom file path where FCR put file with flight recorded (.FCR and all Flight Simulator files attached)