Elite Simulation Solutions appears to be a company focused on actual flight training devices. They sell both hardware, software and complete solutions. That being said, some of their products are interesting to flightsim enthusiasts who have no intention of building a full cockpit. In this review I'll be looking at their Desktop MEL Throttle Quadrant.
Some time ago, part of my flightsim hardware setup broke. When looking to replace it, I noticed that there aren't that many hardware reviews out there. With kind support from SimWare Simulations Belgium, this reviews tries to fill a bit of that void.
A short disclaimer: the unit I've tested is a showroom piece kindly loaned to me by SimWare Simulations Belgium, to whom it will be returned when I have finished my review. Being a used display model, I did not get it in the original box, and so can't say anything about packaging quality or what accessories and manuals are normally included.
Overview:
The Desktop MEL Throttle Quadrant is a 6-axis throttle quadrant with a 2-engine piston aircraft layout: 2 throttle levers, 2 prop levers and 2 mixture levers. Additionally, it has a 2 position toggle switch for the landing gear and a 3-position momentary toggle switch for the flaps.
The base of the Throttle quadrant is 18 cm wide, 11.4 cm deep and 7 cm high (7.08 x 4.49 x 2.76 inches). It is connected to the PC via USB. The unit has a USB type B port on the back.
It's retails for €422,10 via SimWare Simulations excluding shipping. And excluding VAT, making it quite a bit more expensive if you add that. The unit is also available through Elite Simulation Solutions' own website for USD $449.00. It's not available through SimMarket.
Hardware:
The very first thing you notice when picking up the Elite Desktop MEL TQ is the absolutely amazing build quality. Apart from the knobs on the levers, the TQ is completely made out of metal. The entire thing is rock solid, with no give or flex anywhere. Not even in the levers.
On those levers: they move very smoothly. There is no stickiness or snags anywhere in the movement range of any of the 6 levers. With this being a piston engine based throttle quadrant, there are no detents either.
Actual resistance on the levers feels good as well. They move easily, but the force required to move them is not too low. The levers will not move under their own weight, and will provide some tactile feedback if you handle them. But you can still quite easily move all levers at the same time if you need to.
The knobs on those levers are made of plastic. The three pairs are clearly different in colour and shape. The length of the levers also differs, so there shouldn't be a problem with accidently grabbing the wrong lever. One slight remark is that the knobs still have quite pronounced mould lines on them.
The two toggle switches on the Throttle quadrant are quite small. They're also mounted relatively low on the base. It might make them slightly harder to use, especially for people with larger hands. Apart from that, the switches are solid and snap nicely into position. No problem with tactile feedback here.
As for retention: There are 4 rubber feet on the bottom of the Throttle quadrant. There is no means of fixing the TQ to a desk though. No screw holes or any sort of clamping system. The Desktop MEL Throttle Quadrant relies solely on its weight (just over 1 kg or 2 lbs without the cable) and the rubber feet to stay still on the desk. Due to the smooth axis and the relatively heavy weight, it is actually quite stable and very usable this way.
But it is not fixed. So if you're making a lot of fast power changes, or push the levers to their stops with force, you will move the Throttle quadrant. The same with the gear and flaps switches. The TQ is heavy enough that you can actuate them without the unit moving, as long as you're not too heavy handed. I'd prefer to have at least the option of fixing the unit to the desk.
Software and interface:
Things get a bit peculiar if we look at this side of the product. And it all comes down to one particular design choice. The Elite Desktop MEL Throttle Quadrant is not detected by your PC as a game controller.
This means that you're dependent on Elite Simulation Solutions providing a simulation specific driver or plug-in to get the Throttle quadrant working. And the list of supported simulators is not overly long. Microsoft Flight Simulator is supported from FS2002 up to and including FSX:Steam Edition. Lockheed-Martin's Prepar3D v1 though v4 are also supported, except for professional licenses of this series. There is also a plug-in for the old ASA On Top IFR training simulator.
And then there's X-Plane. There's a plug-in to get the Elite hardware working in X-Plane 10 and 11. But the free version is a time limited demo. To actually get the Throttle quadrant working, the full plug-in will cost you another USD $54.00. And as with P3D, it's only licensed for home use.
Alright for MSFS and P3D users. A bit less for X-Plane users. And anyone using another simulator or game is completely out of luck.
I did my testing mainly in P3Dv4.
I had no issues with installing the plug-in in P3D or getting the hardware to work with it. Just running the installer, and everything got going without issues. Do note that FSUIPC is required for FSX or P3D, although the free version will do.
One annoying thing the plug-in does is show a warning that use of the hardware in a commercial setting is prohibited. It shows this warning every time I start P3D. Luckily, it disappears after a couple of seconds, or when you click 'ok'.
The actual plug-in is meant to enable and control all of Elite's hardware, not just this throttle quadrant. This means that a lot of the tabs in it are of no concern when only trying to get the TQ to work.
The operation of the plug-in wasn't always intuitive or clear to me at first. And the manual isn't that comprehensive. But with some reading and testing, it's all quite easy to use after a while. The most important thing, if the software doesn't automatically pick the right settings, is to choose which throttle quadrant you're using (Elite has several models available), pick what type of engines your aircraft has, how many of them, and how you want the axis to behave.
As the Throttle quadrant isn't exposed as a game controller to Windows, or the simulator, you can't freely assign axes. You're limited to the options the plug-in gives you. But those are quite varied, so you should find one that suits your situation.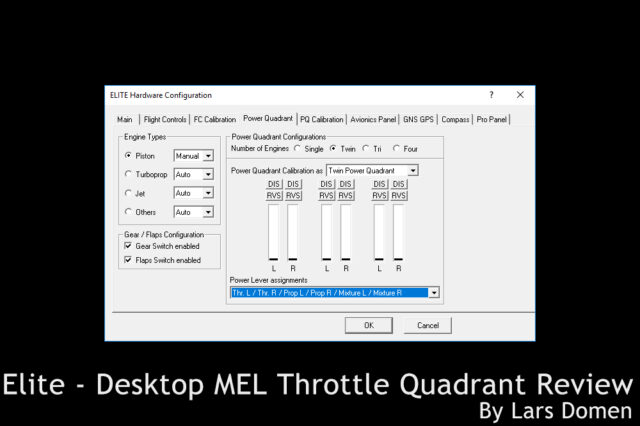 There's one more consequence to the way Elite does things with their throttle quadrants: compatibility. For this throttle quadrant to work with an aircraft, that aircraft has to conform rather strictly to standard FSX/P3D SDK practices. This is usually no problem. All default aircraft should work. As should most 3rd party add-ons. But not all. Rather notable exceptions are the A2A Simulations range of aircraft, and the PMDG DC-6. I couldn't get the throttle quadrant to work with either of those in P3D. And of course, I didn't test all add-ons available.
One other thing I noticed is that the axis mapping insists on including the reverse thrust region in the assignment of the power or throttle axes when flying turboprop or jet aircraft. This is nice in that you have full and gradual control in this area. But I found it frustrating and unintuitive, because this model of the throttle quadrant does not have a detent at the idle position. So it is most comfortable with the type of engine its design is based on: piston engines.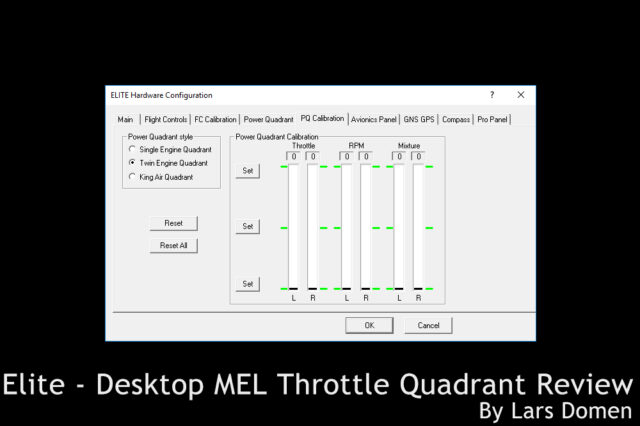 Conclusion:
The Elite Simulations Solutions Desktop MEL Throttle Quadrant delivers an incredible build quality alongside outstanding tactile handling. In this regard, it's an absolute pleasure to use, and worth it's price. However, the software side of things points strongly to the intended customer: fixed simulators or training setups. I have no doubt that for these situations, it's a great solution. If, however, you're a user that likes to fly lots of different aircraft, from lots of different developers, this might not be the best throttle quadrant for you.
As for me, I'm too much in that last use case. I enjoyed testing this piece of equipment, and am still impressed by the feel and handling. But it's just not right for me.
I want to thank SimWare Simulations Belgium once more for their kind support that made this review possible.
Like:
Outstanding build quality
Very good handling and feel
Hassle-free setup once you have the right plug-in.
Don't like:
Limited simulator/game support
Compatibility problems with some add-ons in FSX/P3D.
No way to mount it to a desk
Significant extra cost to get the X-Plane plug-in
Useful links:
Elite Simulation Solutions | Product Page
SimWare Simulations Belgium Product Page
Test System:
Intel Core i7-6700K @ 4x4GHz (stock speed)
32GB DDR4 RAM
Asus GTX 1070 Strix Gaming 8G
Windows 10 64 bit
Prepar3D v4
X-Plane 11