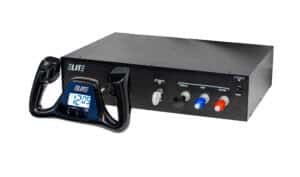 Sensing a need for high quality, lower-cost flight simulator hardware, ELITE has created the "ALTURA" line of products. These devices —  Cirrus Flight side sticks, yokes, flight consoles, and Garmin GNS530 replica — are designed for the home flight simulator market and for K-12 school programs, such as STEM.
The various new ALTURA products are "plug-and-play" and are easily configurable with popular flight simulation programs, such as Microsoft Flight Simulator, 2020, Lockheed Martin Prepar3D, Laminar Flow X-Plane, and of course ELITE XTS Software.
For 30 years, ELITE Simulation Solutions has been providing highest fidelity EASA & FAA approved flight simulators, as well as high-quality software & premium hardware for pilots & instructors to use in their homes and flight schools. Explore the new ALTURA products shown below, by clicking on the photos, to discover how they may play a role in your flight simulator hardware needs.