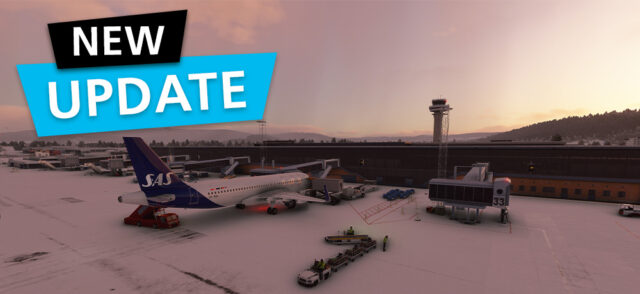 Miscellaneous improvements have been implemented into the Norwegian airport and scenery of Trondheim-Værnes ENVA for Microsoft Flight Simulator.
The jetways, VDGS system and terrain have been enhancements, and they fixed the dynamic snow not to appear in the terminal interior.
Update v1.0.5.0 Changelog :
Various terrain mesh adjustments
Disabled dynamic snow build up inside terminal interiors
Various improvements to VDGS:
– Replaced VDGS with APIS system used at Trondheim.
– VDGS now spawns at all equipped stands, not just the stand occupied by the user aircraft.
Note that the guidance part of the system still only activates when ATC clears you to a stand.(*) Until then the VDGS will show general info such as current UTC time and temperature.
– Fixed issue where VDGS could spawn at incorrect altitudes.
Improvements to jetway visuals.
Corrected LOD values for jetways.
Added ramp connection for rear exits at jetway equipped stands.
Adjusted spawn positions for ground equipment.
* ATC clearance is only needed from touchdown to parking, ATC guidance for the whole flight isn't needed, contacting Ground after touchdown and requesting "Taxi to Gate" is sufficient.