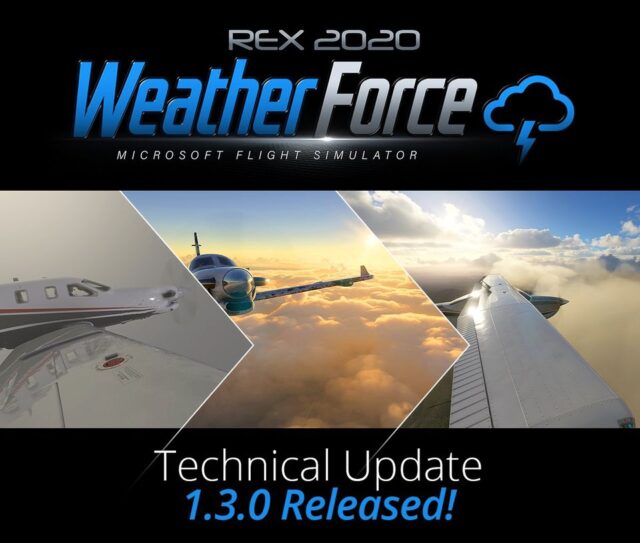 "Brilliant", "worth a buy", "looks great", "very impressed" users of REX Weather Force 2020 MSFS are raving about it in the customers reviews at simMarket.
And the developers group keep on enhancing their software with the release of the Technical Update 1.3.
Content :
FIXED – Favorite airport weather updates.
FIXED – Aerosol option not saving.
FIXED – Clouds not clearing after full overcast.
FIXED – Ability to startup multiple versions of Weather Force.
FIXED – Improper weather mode reporting after selecting DWP weather injection on initial load.
FIXED – Snow not rendering with use of DWP.
FIXED – No snow generating when snow was falling at the airport.
IMPROVED – Cloud rendering based upon saturation and stability indexes found in the atmospheric column from balloon and model data.
IMPROVED – Clearing cloud density during weather automation.
IMPROVED – Pilot2ATC file export weather updates.
IMPROVED – Surface weather condition rendering at higher elevation airports.
IMPROVED – Initial load of snow on ground based upon 7-day weather conditions.
ADDED – Instant updating of temperature, pressure and wind during initial weather injection.
ADDED – Instant snow coverage if snow is falling at the departure airport.
ADDED – Function to keep snow coverage on the ground during flight based upon 7-day review of snowfall at the airport and temperature during flight.
ADDED – Ability to search weather and view weather at favorite airports during weather synthesis.
INSTALLATION INSTRUCTIONS
Step 1 – Open Weather Force.  
Step 2 – If you receive a popup stating a new update is available, click the Download button to download the latest build. Save the file to your desktop.  
Step 3 – Close Weather Force and uninstall the application.   
Step 4 – Unzip the new update and right-click the rexinstaller.exe to run the file as Administrator. You may receive a popup from Windows requiring extra steps to run the installer. Be sure to click the More Info link and then the "Run Anyways" button.  
Step 5 – Once Weather Force is installed, right-click the Weather Force desktop icon, choose properties, choose advanced and then check Run as administrator.