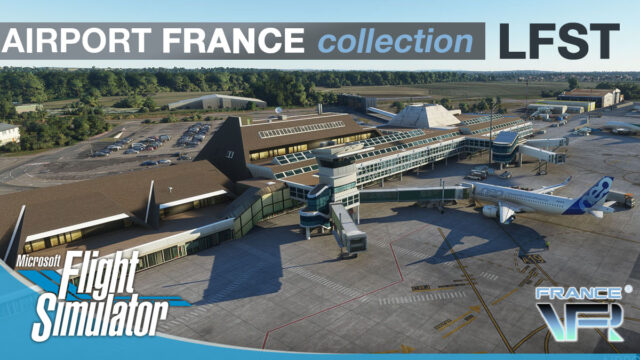 After the recent bundle release of Airports France Pack 1, France VFR members are proud to announce the release of the 5 detailed commercial french airports separately sold, as single product, for Microsoft® Flight Simulator®.
LFBD – Bordeaux Mérignac
LFLC – Clermont-Ferrand Auvergne
LFRB – Brest Bretagne
LFST – Strasbourg Entzheim
LFMT – Montpellier Méditerranée
The Airports FRANCE range for Microsoft® Flight Simulator® has been designed to offer once completed about 30 of the most famous and/or frequented French commercial airports.
Our goal for all the products in this range is above all to offer mixed IFR/VFR platforms offering the best possible compromise between homogeneity, visual rendering and search for realism while offering very attractive prices through "bundles" grouping several airports in one package.
TECHNICAL SPECIFICATIONS:
– Ground textures 0.5m/pixel résolution reworked aerial images from IGN for Bordeaux, Brest and Clermont-Ferrand airports.
– High resolution ground textures and detailed markings on each platform.
– Photo-realistic 3D buildings specific to each platform.
– Vegetation reworked on each platform and its surroundings.
– Realistic night lighting reworked on each platform.
– Runways profiles (slopes) reworked on each platform.
– Animated jetways.
– Compatible with our VFR FRANCE product range.
– Geo-referenced data for maximum compatibility with future add-ons installed on the same area.
– Development process 100% SDK (System Developement Kit) specifications compliant, ensuring maximum compatibility with new releases.
– SIA – VAC – IAC – APT – ARRDEP charts provided.