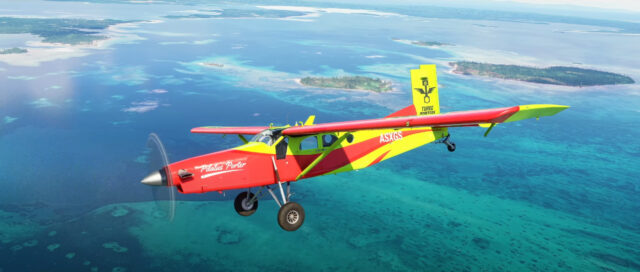 Today Microsoft officially launch the Sim Update VII to all users of Flight Simulator v1.21.13.0, it's also the release of the full game released now under Game Of The Year Edition (sometimes said as GOTY). The 3 levels of additional content remain available : Standard, Deluxe, Premium Deluxe, depending of the number of detailed cities, detailed airports and aircraft that you want to start with, included in the default stock.
Of course, the update is still free for existing simmers already registered. You have to launch first Xbox app, or Microsoft Store app on your PC to initiate the first 526.9 Mb download. Then start MSFS itself, and the big download at startup grabs another data package, sized between 16.09 Gb for Standard edition up to 33.4 Gb for Premium Deluxe edition.
What is the content of this Sim Update VII ?
new aircraft :
Boeing F/A-18 Super Hornet
VoloCity
Pilatus PC-6 Porter
CubCrafters NX Cub
Aviat Pitts Special S1S
new detailed airports :
Leipzig/Halle Airport (EDDP)
Allgäu Airport Memmingen (EDJA)
Kassel Airport (EDVK)
Lugano Airport (LSZA)
Zurich Airport (LSZH)
Luzern-Beromunster Airport (LSZO)
Patrick Space Force Base (KCOF)
Marine Corps Air Station Miramar (KNKX)
and also :
new Discovery Flights in Helsinki, Freiburg-im-Breisgau, Mecca, Monument Valley, Singapore, and Mount Cook,
14 new tutorials,
new photogrammetry cities,
DirectX12 Previw Mode
VR controller support,
vastly revamped weather system