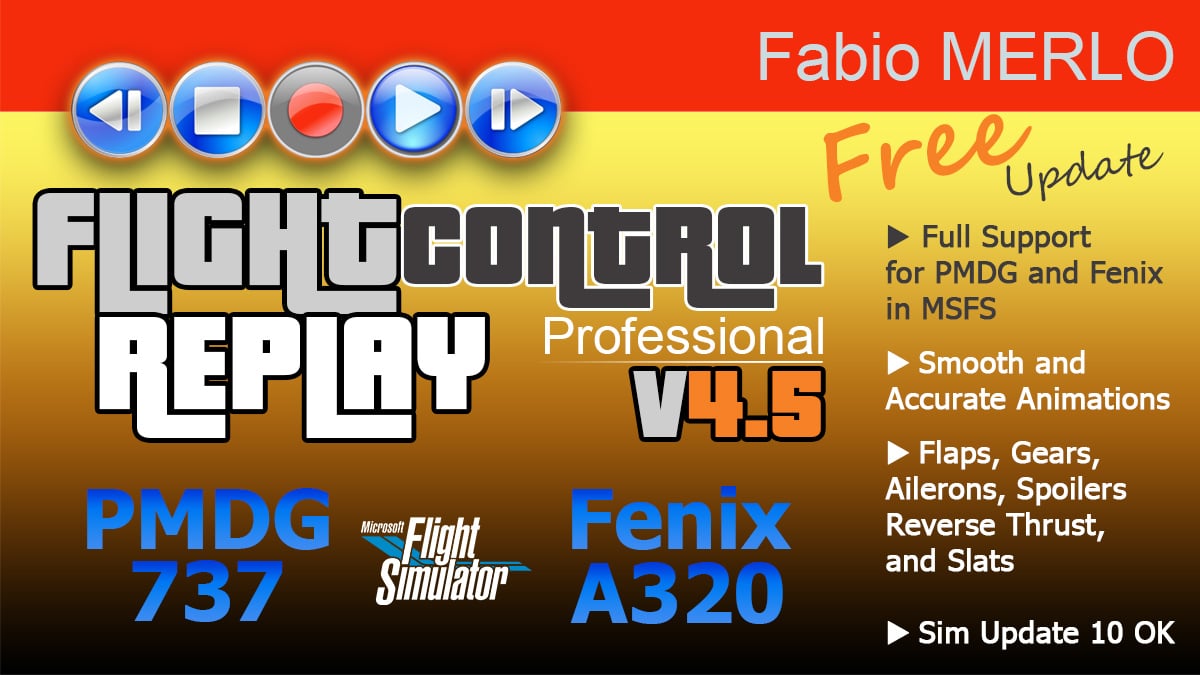 FlightControlReplay Professional version 4.5 got a new update this afternoon for MSFS users : the advanced airliners by PMDG, the 737NG in all variants for MSFS, and the Fenix A320 MSFS are both well supported to produce Replays and Videos. Fabio Merlo, author of the tool, details that their custom animations of numerous moving parts are now correctly reproduced with smooth moves and accurate position. The included parts are Flaps, Gears, Ailerons, Spoilers, Reverse Thrust and Slats.
It is also compatible with the official Microsoft patch Sim Update 10, to avoid risks of crash-to-desktop and freeze. So it's mandatory to update your FlightControlReplay tool even if you don't fly the mentioned airliners.
Go to your customer account at simMarket and download the new setup. Uninstall your existing software and launch the new one, and you're done.
FlightControlReplay has been among the top sellers MSFS at simMarket since the beginning due to the other and multiple other features included, which are (not exhaustive) :
Fly the Maddog, Aerosoft CRJ, Just Flight 146 Professional already supported in MSFS !
Record MP4 videos with just a few clicks
VR headsets support and display of the user interface in VR
Simulate Formation Flying with PlayAsAI
Crash-to-desktop flight recovery and Resume
Re-Live Instant Replay to resume the flight from a specific moment in the past
Camera Manager to create and save advanced camera movements and paths
Detect, track, follow and record AI Traffic aircraft
Toggle control of your aircraft and fly one of the AI Aircraft in the surroundings
FCR controls with voice recognition
Automatic Camera Change in Replay