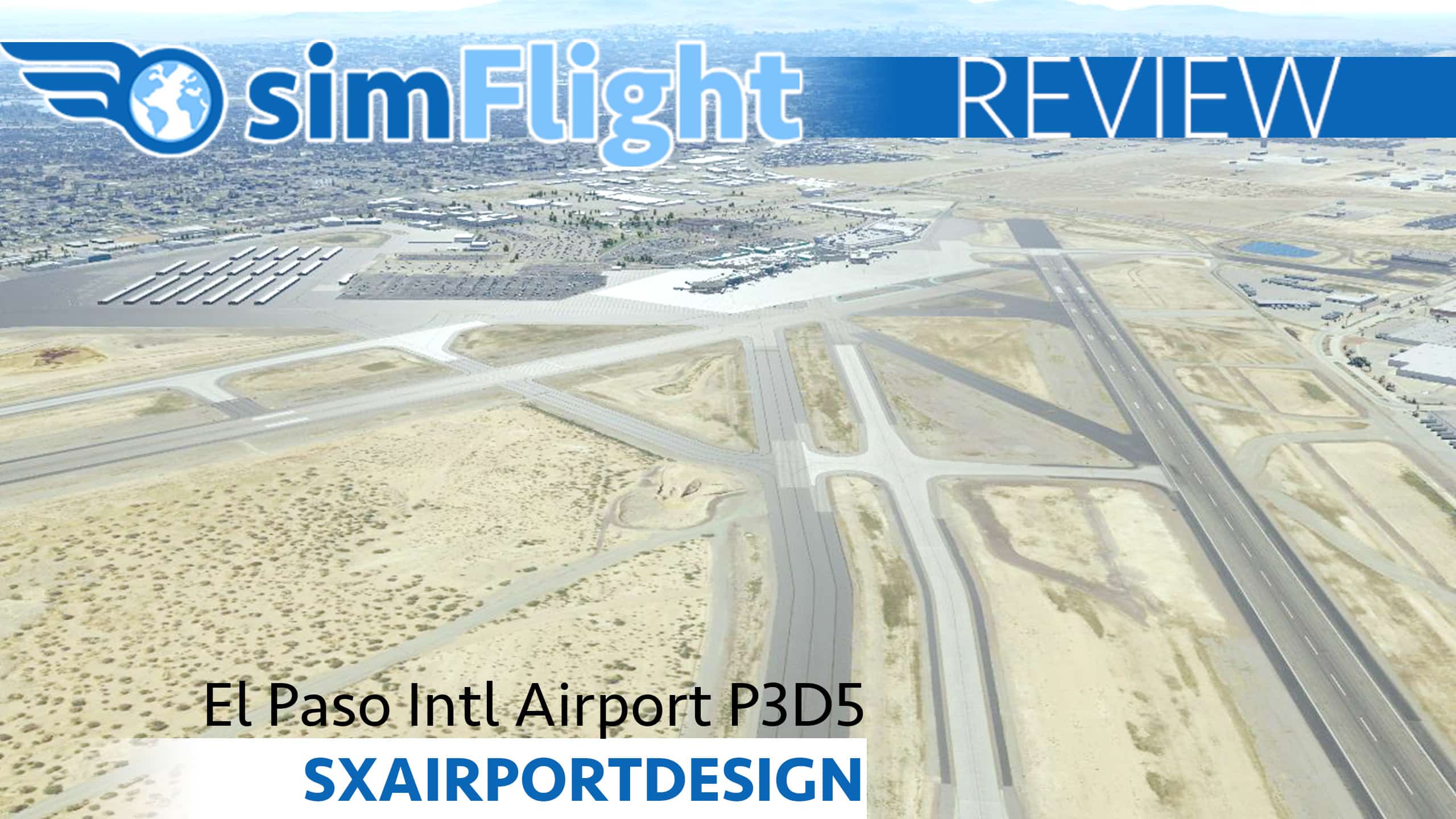 Review by Nadeem Z
Airport Overview
Renowned American Developer SXAD after much wait throughout 2022 have made a New Year's
Eve release for their long-awaited rendition of El Paso Airport International Airport in the US state
of Texas is an International Mid-Sized Airport based in the far west coast of Texas . From first
impressions SXAD have delivered indeed on this release. Home to mainly Southwest, American and
FedEx, KELP is a three-runway airport that offers direct routes to almost 30+ destinations around
the continental USA. El Paso Airport is also used as Cargo hub for that connect major US cities such
as Louisville, Indianapolis, and Miami.
Airport Features
The SXAD product offers amazing features which take advantage of the latest P3D technologies
such as Dynamic Lighting and PBR Textures which are considered a must in today's payware
quality product. SXAD have also included Baked lighting on most buildings and ground textures
Detailed ground polygons with PBR textures, SODE animated Jetways, Accurate custom 3D
approach lighting on 22 and 26L, A detailed 1ft/pix ortho-imagery of El Paso International, A
huge area of 2ft/pix ortho-imagery including the surrounding area and Biggs Field (KBIF), The
entire area populated with custom made buildings. Additionally, SXAD the included SODE
Animated Features which fit perfectly with the airports size and main terminal offering multiple
parking options via main terminal on stand or remote positions.
A major advantage to this product is also that it already includes custom ortho-imagery directly
from the developer which is included in the product download for free!
Modelling and Texturing
After carefully examining the terminal and its features, SXAD have used high quality textures and
have modelled all the major airport buildings.
Without a doubt, the modelling is of top quality, the details included near the main terminal and
remote stands such as the custom highly detailed ground polygon and Accurate custom 3D
approach lighting on 22 and 26L shows that SXAD have put a lot of effort and work into the product
and minor details which contribute a whole lot the the overall quality of the product.
SXAD have also included a variety of ground vehicles which flawlessly go along with any ground
addon such as GSX.
Final Feedback
For Anyone who is looking to fly into El Paso Airport in P3D. I would absolutely recommend the
SXAD version as they have put extensive effort into their version whilst including all the major and
important P3D features such as PBR, custom runway lighting system and Dynamic Lighting at the
terminals and most major buildings. This fits perfectly for the many cargo routes that can be done
from this airport from either a 747 Jumbo or even an MD11!
I am looking forward to their next release and hoping for a Midwest one next!
Job well done to the SXAD team! Keep it up!
Review by Nadeem Z
PROs
➢ Great attention to Detail, excellent frame rates and decent VRAM usage
➢ Taking advantage of the latest P3D technologies and features
➢ Included Ortho-Imagery for free within the product.
➢ Adaptation of SODE to its fullest use
➢ HD Ground Imagery and Detailed Ground polygon taxiways and Runways
➢ 3D lights on runway 22 and 26L
➢ Futuristic expansions of taxiways already included near Runway 22 and the Cargo ramp!
CONs or suggested improvements
➢ Possibility of adding a Scenery Configurator for simmers who like to customize and add
these features.
➢ Add the automatic installer for the ortho-imagery and make possible an easy customization tool to edit options.
➢ More color or emphasize the gate numbers on the terminal and ground polygon specially during the nighttime!
Purchase
Simmarket
Developer: SXAirportDesign
Price: EUR 22.49 (+ tax for EU customers)
Test System
AMD Ryzen 7 3700x
16GB RAM
Nvidia GTX3080TI running 4K textures.