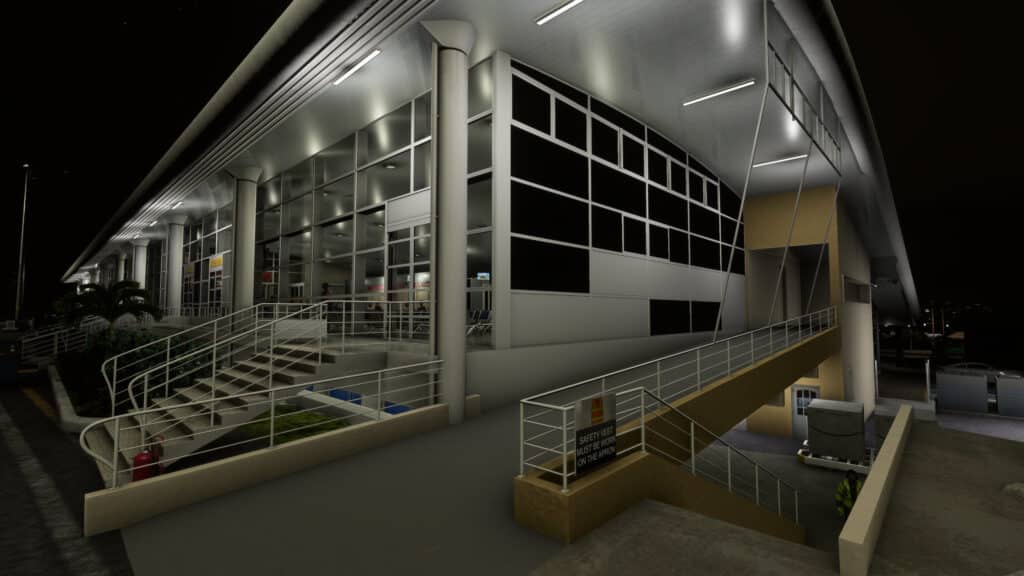 Are you ready for the epitome of realism with SLH Sim Designs' Robert L. Bradshaw International Airport (TKPK) for Microsoft Flight Simulator. This excellent airport scenery offers a fully modeled airport with incredible attention to detail. From the accurately modeled terminal interior and airside areas teeming with passengers to the custom 3D taxi/runway signs and lights, every aspect has been carefully designed to provide an immersive and authentic flight experience.
Witness the airport come to life at night with dynamic lighting that adds a vibrant and realistic atmosphere. The combination of carefully placed lights and shadows creates a visually stunning environment for nocturnal landings and takeoffs. Additionally, the inclusion of static sea traffic adds another layer of realism, as you observe ships and vessels navigating the nearby waters, enhancing the overall immersion.
With its fully modeled airport, attention to detail, dynamic night lighting, custom 3D taxi/runway signs and lights, and the added element of static sea traffic, this scenery package offers a truly immersive and realistic flight experience. Don't miss the opportunity to explore this masterpiece—head over to SIMMARKET and elevate your simulation experience to new heights. Order at SIMMARKET your products from the talented SLH Sim Designs including the latest Robert L. Bradshaw International Airport St.Kitts TKPK for MSFS.
💻 With Siminstaller = MSFS Auto-Install and Auto-Update via SIMMARKET app