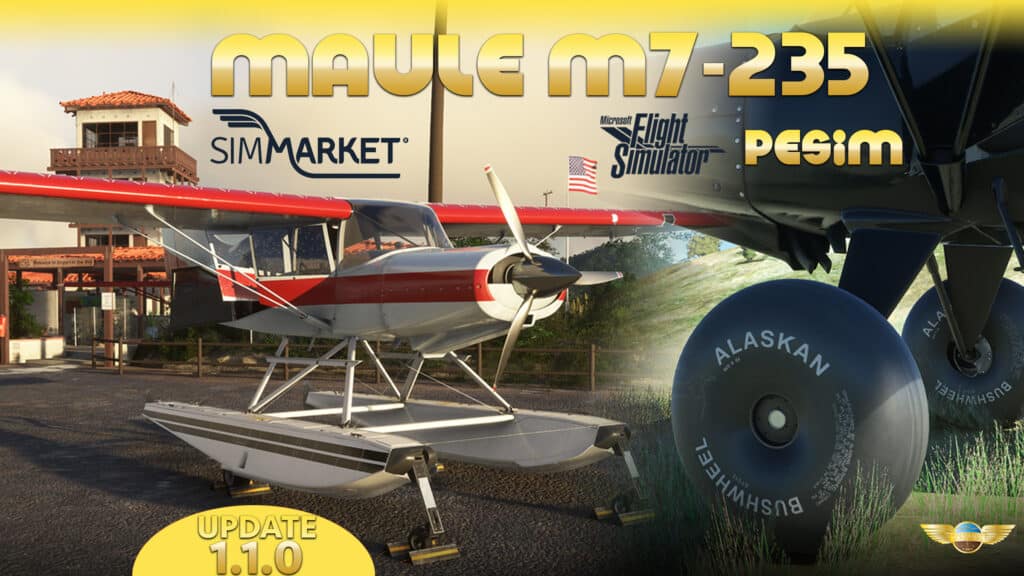 Pilot Experience Sim has released the Maule M7-235 MSFS Update v1.1.0, packed with significant enhancements based on user feedback. Validated by a real Maule pilot instructor, this update offers an authentic experience. Design improvements include a reworked exterior, updated flaps performances, and the addition of a stabilizer aileron for the float version. The engine design, elevator trim, and tailwheel logical have been updated to match real-life counterparts.
The update introduces realistic features such as selectable engine conditions, including cold and hot scenarios with thermal shocks and spark plug simulation. The doors mechanism now includes locks, wind forces, and realistic collision effects, along with authentic sounds. A thermometer and hour meter have been added retroactively to track flight hours. The inclusion of a complete custom fuel system allows for auxiliary tanks and offers realistic fuel management from the Electronic Flight Bag (EFB). The EFB also features an updated clipboard, editable checklists, and the ability to create personalized checklist pages, plus an updated paintkit.
Pilot Experience Sim is excited to provide this comprehensive update, driven by user feedback and validated by experts. They aim to enhance the realism and immersion of the Maule M7-235 experience, making it an exciting choice for flight enthusiasts.
Changelog V1.1.0 :
Validated by real Maule pilot instructor
Updated flaps performances
Updated exterior design
Added float version aileron
Updated engine design
Updated elevator trim design
Updated floaters textures
Updated tailwheel logical and turn coefficient
Updated doors mecanism included lock
Added real Maule doors sounds
Added realistic wind force and constrain on doors
Updated rudder trim to rudder lock
Added thermometer
Added horameter
Added complete custom fuel system
Updated fuel flow to custom
Added auxiliary tanks
Added selectable realistic engine conditions feature
Added spark plugs logical
Updated station load positions
Updated clipboard to EFB
Added loads wheight variables
Added fuel load from EFB
Added float version anchor from EFB
Added paddle movement from EFB
Added editable checklist from EFB
Updated user manual