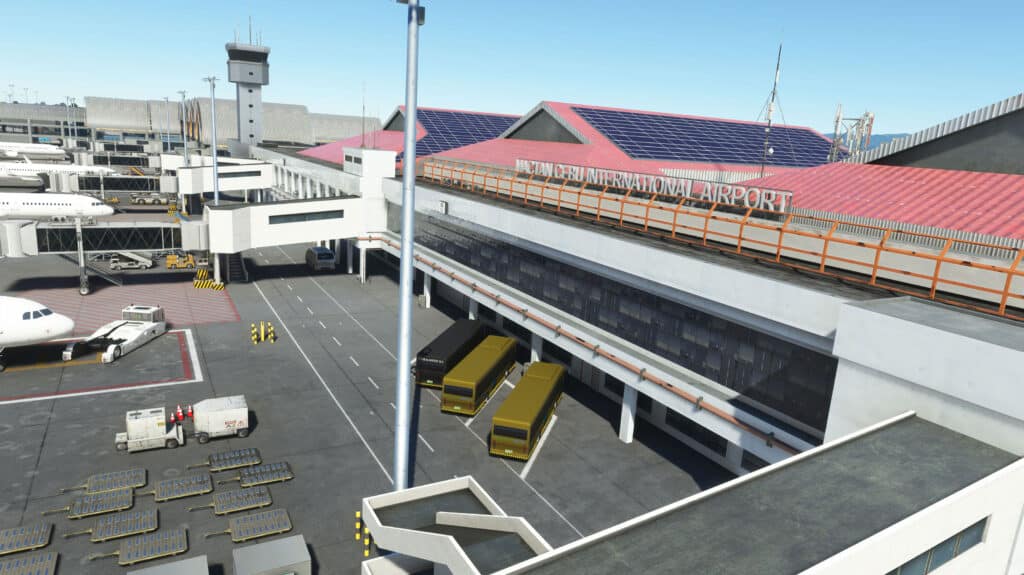 Cloudsurf Asia Simulations presents RPVM Mactan Cebu Intl MSFS released at SIMMARKET, an exceptional scenery for Microsoft Flight Simulator. This handcrafted masterpiece brings Mactan–Cebu International Airport to life with unparalleled realism and attention to detail.
The team's extensive knowledge and meticulous research ensure a faithful representation of the airport, making it the ultimate gateway to the Central Visayas region in the Philippines. Featuring custom-built objects and fully modelled terminals (including interior details for Terminal 2), RPVM offers a truly immersive experience. The scenery encompasses general aviation and military hangars, high-quality parking stands, ground textures, signs, and markings—all customized to perfection. With PBR textures, every 3D model shines with realism, creating a visually stunning environment.
Not only is RPVM VATSIM ready for online flying, but it also includes a custom animated jetway for enhanced immersion. Additionally, the scenery captures the essence of Mactan Island with modelled hotels and resorts, such as Mactan Newtown, Arterra, Sheraton, and Shari-La. Cloudsurf Asia Simulations is dedicated to continuous improvement, offering free future updates for bug fixes and compatibility, ensuring an exceptional experience for all virtual pilots. Elevate your flights and explore Mactan–Cebu International Airport in MSFS by acquiring RPVM from SIMMARKET today.
💻 With Siminstaller = MSFS Auto-Install and Auto-Update via SIMMARKET app