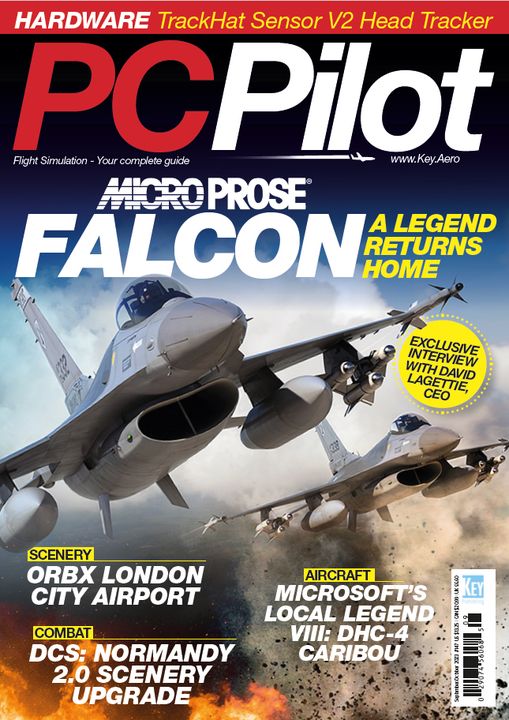 My favorite flightsim magazine. You can read most of the flightsim news on websites, but i also like to read it on paper, while i'm outdoors or with a cup of coffee. The new PC Pilot, edition 147. September/October edition. More info about it on their website.
And a word from Derk Davis about this new issue:
NEW ISSUE OF PC PILOT – NOW AVAILABLE!
MICROPROSE FALCON
A legend returns home!
Hello and a very warm welcome to another packed issue of PC Pilot. Our lead story for this edition is the return of the ground-breaking and revered Falcon series to its original owner – MicroProse.
As we revealed in the News section of our previous issue, MicroProse announced that it had re-acquired the copyright to its popular Falcon series.
The innovative Falcon franchise pushed the limits of what was possible on a deskstop combat flight simulation back in the day – setting a benchmark for highly realistic flight models, terrain, radar and weapon systems and AI. One of its most popular features was the highly sophisticated and fully dynamic campaign in Falcon 4.0.
Third-party developer, Benchmark Simulations (BMS) maintained interest in the franchise with its Falcon BMS mod for Falcon 4.0 – developing the simulation to new heights of fidelity – to the point where it can still hold its own with modern-day combat flight simulations.
I've been a fan of the franchise ever since Falcon 2.2, so when I heard of MicroProse's reacquistion of the copyright, I reached out to its CEO, David Lagettie, to find out more about this story, as well as discuss his future plans with this and other titles MicroProse currently has in development. As you will discover in this exclusive interview, we have some surprising news for you… Turn to page 66 to find out more…
As well as this exclusive interview, we also have reviews for
Microsoft/Orbx's DHC-4 Caribou,
Microsoft's Famous Flyer 6: Ford 4-AT Trimotor, developed by Aeroplane Heaven,
Orbx's London City Airport v2 & London City Pack and much more.
So, we hope you enjoy this issue of PC Pilot.
Happy flight simming!
Derek Davis (Editor)