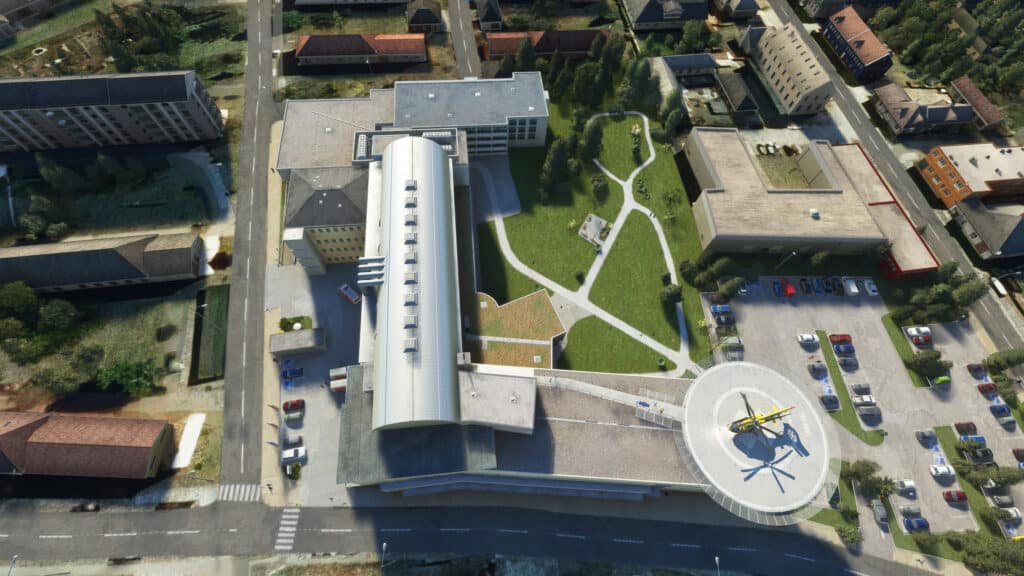 Jump in your helicopter to land on the helipad of the Unfallkrankenhaus Klagenfurt Hospital (UKH) scenery by Spinoza, now available on SIMMARKET for Microsoft Flight Simulator. This highly detailed scenery replicates a vital medical facility in Carinthia, Austria, affiliated with the Medical University of Graz.
Pilots can test their skills with precision landings on the hospital's top-floor helipad, offering an immersive experience and a challenge for even the most skilled aviators.
Explore the extensive Austrian network of emergency heliports, showcasing the history and evolution of medical rescue operations, from collaborations with the Bundesheer and Bundesgendarmerie to modern-day partnerships with the Austrian Red Cross, mountain rescue, and Berufsrettung Wien. Spinoza's commitment to updates ensures compatibility with the latest MSFS technology, keeping your virtual rescue missions realistic and engaging.
Immerse yourself in a world that mirrors the needs and wishes of patients, employees, and the organization through quality assurance. Familiarize yourself with the CIRPS error reporting system, a crucial part of the hospital's operations. Download Spinoza's Unfallkrankenhaus Klagenfurt (LOKU MSFS) today and take flight as a virtual rescue pilot, making a difference in the world of emergency medical services.
💻 With Siminstaller = MSFS Auto-Install and Auto-Update via SIMMARKET app