FlightControlReplay version 5 for Microsoft Flight Simulator, Prepar3D v5/v6 is a complete tool to handle an easy and efficient Replay, to record MP4 videos, with capability of creating enhanced flightsim content with advanced and innovative features.
Summer23 Update is FREE to all registered users of FlightControlReplay 5, and here is its content detailed below. For the curiosity of new customers, the complete User Manual is available as free download to let you check more in-depth its features, menu options, and functionality.
CHANGELOG SUMMER23 UPDATE summary
·         MSFS FlyBy Camera added [Beta]
· MSFS HPG H145 Helicopter Advanced Support : lights, doors, engine switches
· Cut and edit the replay directly in FlightControlReplay
· File Compression technology : reduced disk space for .FCR user files
· Enhanced User Interface : 1 new layout added as mid-size user interface, either buttons or icons bar styles now available
·         Enhanced landing report
FLYBY CAMERA ADDED [Beta]
Awaited by many users of Microsoft Flight Simulator, this brand new Replay feature that was missing is LIVE. You can now watch your own aircraft evolving on ground and in the air from an external camera that follows your position automatically. It works anywhere, with any aircraft and with any add-on scenery during Replay. The User can customize the position, side, angle, distance and length of camera sequence.
During taxi operations, at takeoff or landing, or while you are cruising, fly-by camera mode will jump from a position to another along your flight trajectory to keep your aircraft always in sight with a cinematic performance ! No more hassles in setting a virtual spotter view, a button click and you are set to watch !


CUT REPLAY DIRECTLY IN-TOOL
For a quick edit of your Replay, to remove a useless part of your Replay, you don't need a complicated video edition software. Just cut off the part upon your selection. Do you want to forget a mistake ? Or eliminate a parking time of your Replay ?
In just 3 clicks, select when starts and ends the sequence to delete, and SAVE it !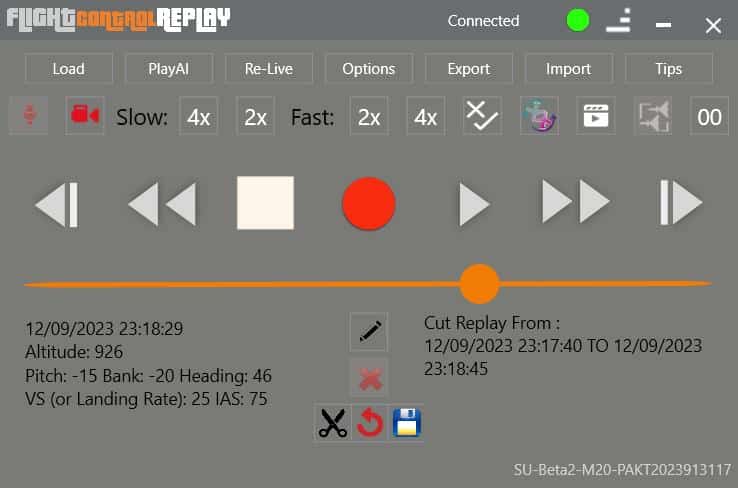 FILE COMPRESSION TECHNOLOGY
For Users who like to record long Replays, or even complete flights, Summer23 Updates comes with a new compression technology for your *.FCR recording files. The files size is much reduced, and it's of course without any loss of flight data or visual quality. Save more space on your disk !
HPG H145 v2 ADVANCED SUPPORT FOR REPLAY
The great helicopter of HyperPerformanceGroup H145 V2 for MSFS had already a partial custom support. It's now extended to provided an Advanced Support for the best accuracy during Replay :
– NEW : lights, doors, engine switches are now also correctly reproduced
– Since the last March23 Update :
o Pedals, cyclic and collective
o Tablet in 3D virtual cockpit can display FlightControlReplay integrated interface for a direct control directly from the simulator.
ENHANCED USER INTERFACE
The customizable User Interface of FlightControlReplay 5 gets a step further. You could already select among three sizes of the layout, set it transparent, or ensure it remains always on top of other windows. Plus, the MSFS integrated interface to let you control the main features directly from your simulator without switching windows.
Now, FlightControlReplay 5 added another mid-size User Interface : you can cycle between a reduced version with the Menu, or a reduced version with the feature icons for a quick access still using a limited area of your screen.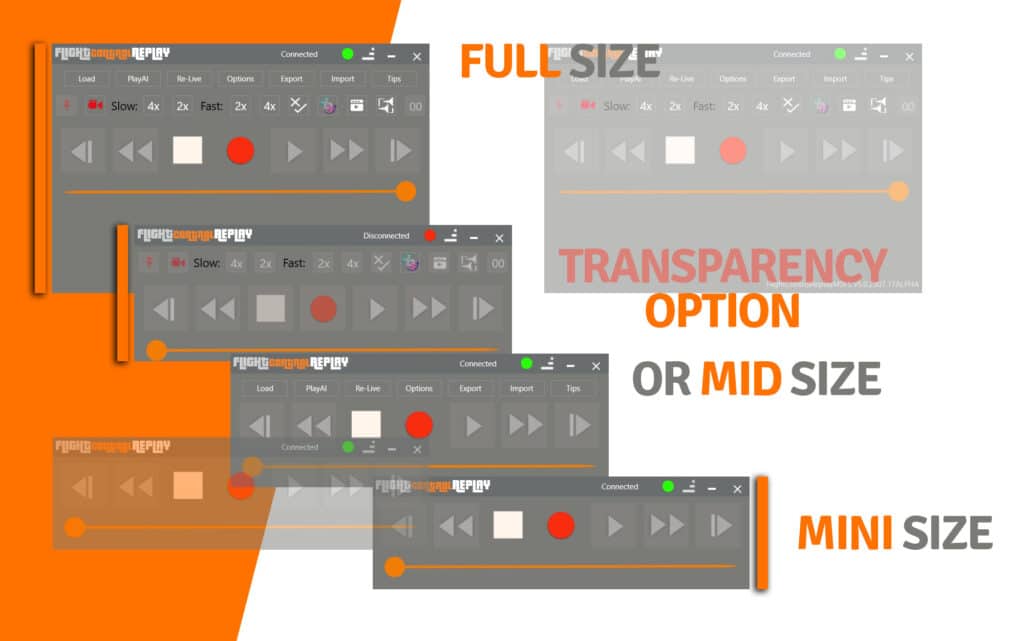 OWNERS OF OLDER FCR4.5 ? UPGRADE TO FCR5 FOR A REDUCED PRICE !
Ensure to get the latest Replay refinements, performance, and the widest selection of airliner add-ons compatibility : Upgrade your current version 4.5 if your are still using it for MSFS or P3D5.
For many new features, new aircraft with custom support, more accuracy, a better look, get today the new version 5 and take advantage of the reduced price specially set for you, only EUR 8,25 (+tax).
MAIN EXISTING FEATURES V5
New User Interface (MSFS + P3D)
Customizable Size and Transparency (MSFS + P3D)
MSFS Toolbar integration and in-game controls (MSFS only)
Cinematic Replay with Automatic Cameras Switch (MSFS only)
GhostPlane : formation flying live with AI duet pilot (MSFS + P3D)
MSFS Airliners Custom Support PMDG 737, Fenix A320, Fly The Maddog, iniBuilds A310, Just Flight 146 
Next gen memory management for performance upgrade (MSFS + P3D)
Landing Touchdown Report (MSFS + P3D)
Crash-to-desktop recovery
Easy setup of the software
MSFS users : all included in 1 automatic setup
P3D users : the same 1 automatic setup and 2 Microsoft separate packages are required
FREE download of the User Manual PDF
OFFICIAL TRAILERS
Discover or watch again our thrilling promotional trailers produced by AviationLads and by simMarket, in 4K resolution, to showcase some of the features provided by FlightControlReplay V5.
Official website : https://flightcontroltools.com/
Store : https://secure.simmarket.com/fabio-merlo-flightcontrolreplay-5-msfs-p3d.phtml
Instagram : https://www.instagram.com/flightonfly/