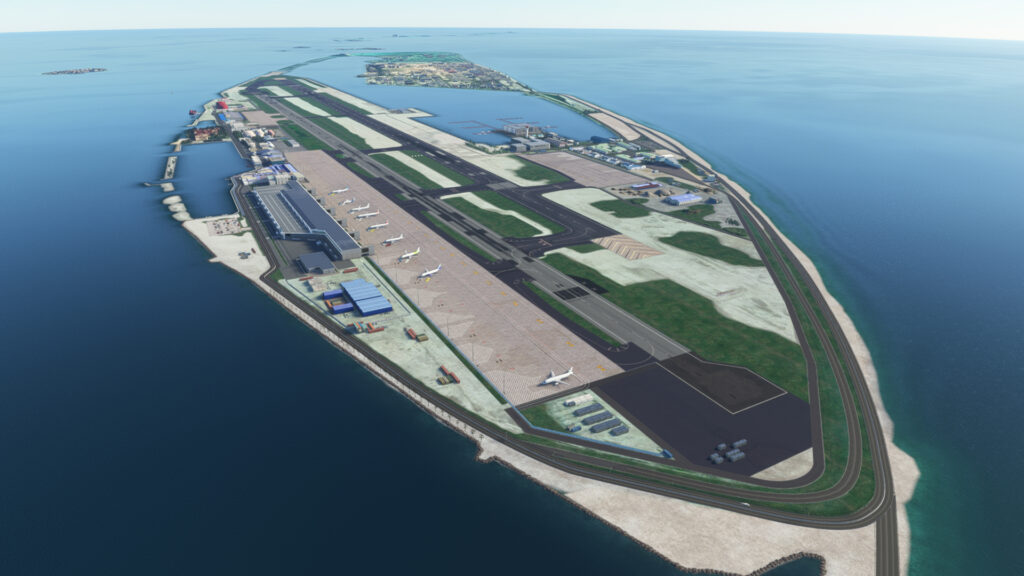 You are invited in the tropical paradise of the Maldives with the new MSFS scenery of Vuelosimple – Velana International Airport (VRMM) for Microsoft Flight Simulator, available on SIMMARKET. This supber add-on brings Velana International Airport to life, offering the most accurate and updated rendition of this exquisite gateway to the Maldives.
Situated on Hulhulé Island in the North Malé Atoll, this airport is the primary entry point for tourists from around the world and is managed by the Maldives Airports Company Limited (MACL).
The Velana International Airport scenery in MSFS boasts numerous impressive features that enhance your flying adventures in the Maldives. You'll find a new passenger terminal with detailed interiors, a striking control tower, and a fully operational seaplane terminal with docks. The airport's runway, taxiways, parking positions, and aprons have been updated, along with a comprehensive representation of the surrounding buildings, including a VIP Lounge, a charming Shopping Center by the sea, cargo facilities, the Hul Hule Island Hotel, Masjid Sabeel mosque, and even the China Friendship bridge. The scenery also includes custom night illumination and LOD optimization for MSFS2020, ensuring a stunning and immersive experience.
Whether you're a virtual pilot or aviation enthusiast, the Vuelosimple – VRMM Velana Intl Maldives MSFS add-on on SIMMARKET is your ticket to exploring the Maldives like never before, offering a highly detailed and true-to-life representation of Velana International Airport. Get ready to embark on unforgettable journeys and land at this tropical paradise's busiest international airport with this exceptional scenery add-on.
💻 With Siminstaller = MSFS Auto-Install and Auto-Update via SIMMARKET app