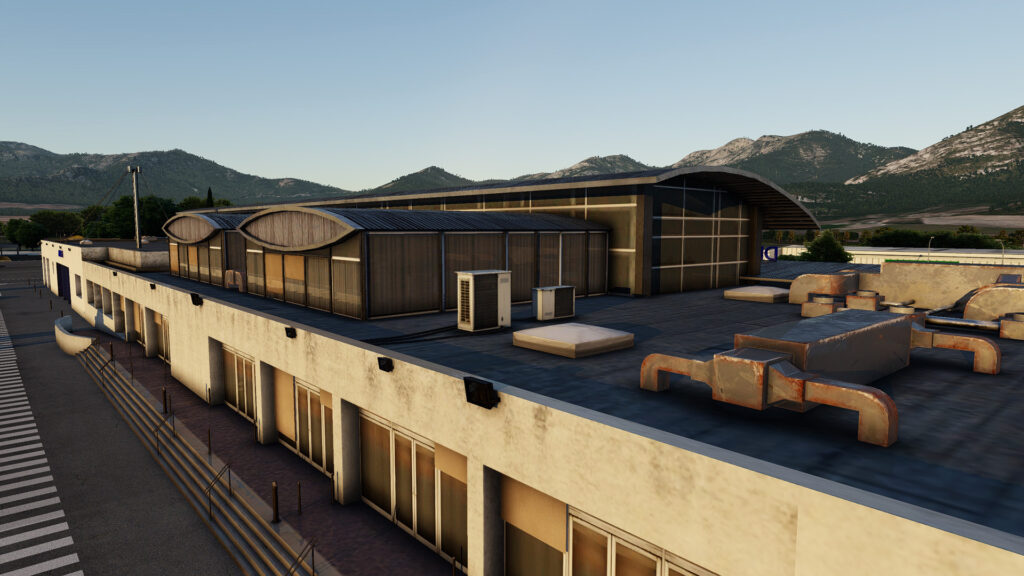 Experience the beauty and authenticity of Corsica Island with Calvi Sainte Catherine Airport in X-Plane 12 with the stunning scenery FSX3D – Calvi LFKC add-on. This airport is nestled in the North/West of Corsica, and it is brought to life with ultra-detailed car parks, taxiways, and runway, ensuring a visually immersive experience for aviation enthusiasts. The use of Physically Based Rendering (PBR) on all objects adds a new level of realism, making every surface and structure look true to life.
The inclusion of ambient occlusion for objects and the ground further enhances the airport's visual appeal. When it rains, you'll notice wet track effects, adding to the overall realism of the scenery. Dynamic lighting brings the airport to life during different times of the day, creating a captivating and dynamic atmosphere for virtual pilots.
Calvi-Sainte-Catherine Airport is a vital international gateway, with the services of the Air and Border Police and Customs readily available. While it may not be open to night traffic, during the day, you can appreciate the attention to detail in this X-Plane 12 add-on. This airport add-on reflects the real-world charm of Calvi-Sainte-Catherine, where there's no shuttle service to the city but offers on-site taxis and car rental companies to cater to passengers' transportation needs. Whether you're taking off or landing at this Corsican gem, FSX3D's Calvi LFKC promises an immersive and realistic experience, enhancing your X-Plane 12 simulation.
With its meticulously detailed car parks, taxiways, and runway, PBR rendering, ambient occlusion, wet track effects, and dynamic lighting, this add-on transforms Calvi Sainte Catherine Airport into a visually captivating and authentic destination. Explore the charm of Corsica as you experience the services of an international airport while enjoying the convenience of taxis and car rentals. Immerse yourself in the world of X-Plane 12 like never before and discover the beauty of Calvi-Sainte-Catherine Airport with this incredible scenery enhancement.