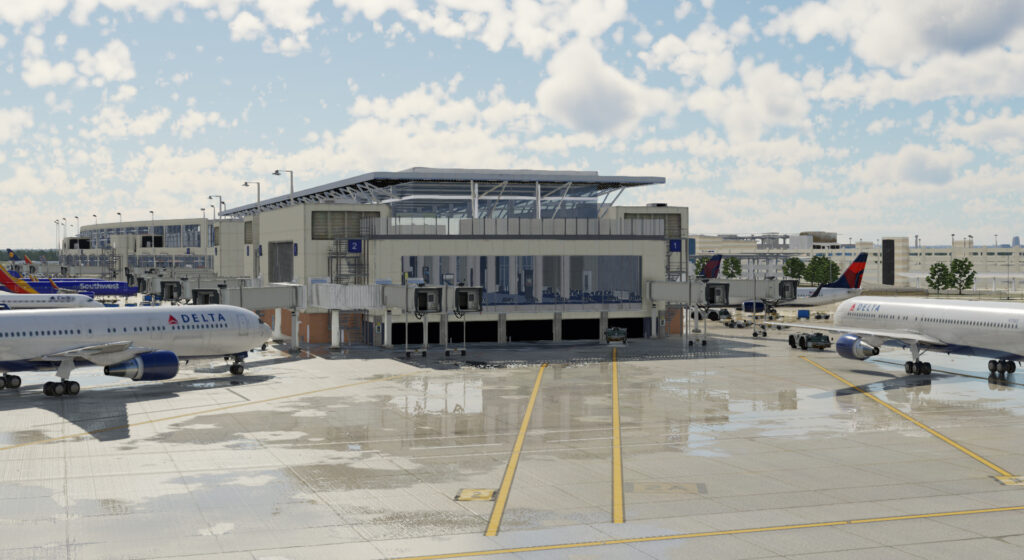 Introducing the DominicDesignTeam's incredible creation KAUS Austin-Bergstrom Airport scenery for X-Plane 11 and X-Plane 12, now available on SIMMARKET! Experience the heart of Texas aviation like never before with this highly detailed airport add-on. Austin-Bergstrom International Airport, IATA code AUS, ICAO code KAUS, is the gateway to the vibrant city of Austin, serving the Greater Austin metropolitan area.
This airport is packed with history, having been built on the former site of Bergstrom Air Force Base, named after Captain John August Earl Bergstrom, a heroic figure in aviation history.
Here's what you can expect from the DominicDesignTeam's KAUS Austin-Bergstrom Airport for X-Plane:
Stunning Visuals: This scenery boasts 3D vegetation, custom ground textures, and accurately modeled terminal interior, bringing an immersive and realistic airport environment to your simulator.
Realistic Atmosphere: Experience the dynamic atmosphere with XP12 water puddles, hand-placed night lighting, and custom cars, making every takeoff and landing a unique experience.
Immersive Details: The developers have gone the extra mile to recreate the airport's unique character with accurate dirt and grunge throughout the facility, custom models around the entire airport, and even the surrounding areas, including the trailer park.
Live Airport Operations: The package includes SAM gates and marshallers, ensuring a dynamic and realistic experience as you navigate the airport.
Austin-Bergstrom International Airport is the third busiest in Texas, with numerous daily arrivals and departures to 76 destinations across North America and Europe, making it a hub for travelers and aviation enthusiasts alike.
Don't miss out on the opportunity to enhance your X-Plane 11 or X-Plane 12 experience with the KAUS Austin-Bergstrom Airport scenery by DominicDesignTeam. This scenery will transform your virtual aviation adventures. Get it now on SIMMARKET and experience Austin-Bergstrom International Airport like never before!