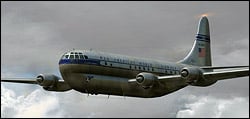 Screenshotartist.co.uk are pleased to be able to present their latest review, of the A2A Simulations Boeing 377 Stratocruiser with Accu-Sim add-on.
If you haven't met this model, and the technology advances that come with the 1950's predecessor of the B747 and A380 double-decker airliners, or if you have, but are still undecided as to whether you want it, you might like to read the review. If you already have it, or it's not really 'your cup of tea', you can always look at Nick Churchill's screenshots instead!
The review can be accessed at the Screenshotartist.co.uk website, here.