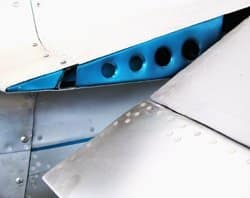 Although the majority of respondents to our little poll on the right seem to NOT like Facebook (and other such programs) there is more and more information being distributed via it. One of the Facebook 'groups' is that of the Flying Heritage Collection, posting interesting photos and titbits of information regarding our main interest: aviation!
"……The Japanese counterpart to the Allies' Zinc Chromate anti-corrosion paint was called Aotake. Careful study of the FHC's Mitsubishi A6M3-22 Zero and Nakajima Ki-43 Oscar fighters, reveals the bright color pigment in the wheel wells, on interior panels, and spanning internal bulkheads. The covering is a semi-transparent varnish that looks like the blue green metallic sheen of a scarab beetle. The unusual color was added to help assure that the coat was applied thoroughly. Aotake drives restorers (and model airplane builders) crazy because its hue and shade seems to change depending on the number of coats, age of the paint, when and where the paint was applied, and surface it has been applied to. Currently, the Zero and Oscar sit side by side in the FHC's hangar, giving one the rare opportunity to compare their different shades of Aotake paint….".
Check out the photoalbums here if you dare !