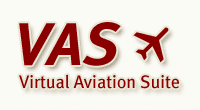 Via Bert Groner of FS Magazin, we hear the sad news that the freeware Virtual Aviation Suite, well known for the popular "vasFMC" product, is closing its doors within the next few weeks.
In this post at the VAS Forums, Alex Wemmer explains his reasons for the closure, with which I'm sure many developers and those involved with FS organisations and sites will sympathise greatly.
In common with, we're sure, the entire FS community, simFlight wishes Alex all the best for the future and whatever it brings.