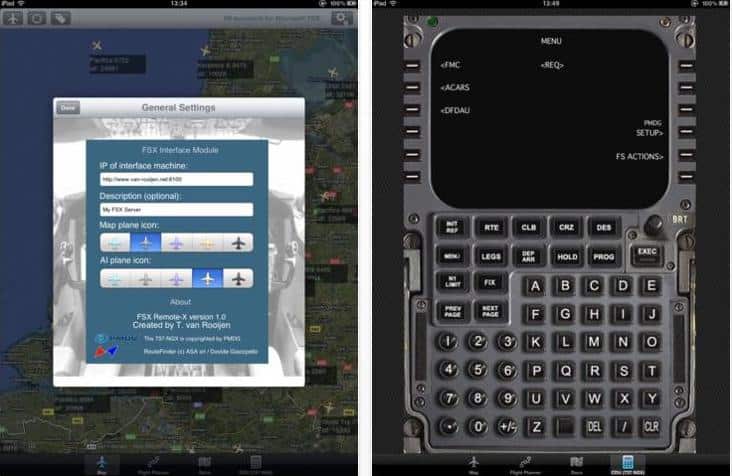 Newly released to join the ever increasing number of iGadget utilities to assist the MSFS pilot, FSassistant from Timon van Rooijen is an iPad only application that covers quite an array of tasks and functions.
With the list of features including a moving map that shows AI traffic, route search/planning, charts and checklist display and CDU integration with the PMDG B737NGX packages, FSAssistant is available through Apple's iTunes store.
For more information, please click the "Read More" button below for the full press release.
Press release:
"FSAssistant: a new digital flightbag app for the iPad has been released!
FS-Assistant will assist you in your basic requirements while flightsimming to make supporting tasks a bit easier. You can now actively use your iPad while flying, just as more and more airlines out there are starting to do. Get direct access to checklists, charts, manuals or even program failures without touching Flightsim itself.
The app currently includes the following features:
– Integrated routeplanner (based on Route-Finder by Davide Giacopello).
Plan your route and directly import it into your FMC to use as company route!
– Realtime moving-map including your airplane and all AI planes in a certain(eg. 150km) radius. Get detailed info on each plane like altitude, heading, and route information.
– CDU simulator with direct access to your airplane! This requires the PMDG 737NGX to be installed. Get direct access to your FMC and program/load routes, view your progress and
get direct access to failures/fuel etc.
– The charts and Checklist database can be used to manage all of your airport, taxi, departure and approach charts or even all checklist and procedures for your airplane. You are able to import any PDF HTML or TXT document and view it fullscreen in an uncluttered interface. Or just have the planes QRH (Quick Reference Handbook) nearby !
FS-Assistant is in active development! Developers are working to re-iterate on current functionality and expand it with new features based on community feedback. A plugin for Radarcontact is on the scopes, as well as a plugin for IVAO.
The app is delivered with an addon-module for Flightsimulator to feed it with information and requires FSUIPC (free) to operate correctly."