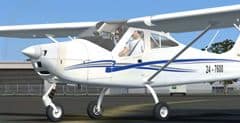 Newly released by Ant's Aircraft is the Eaglet Light Sport Aircraft or LSA; a small, two-seat high wing monoplane powered by a Rotax 912 engine.
Designed for pilots to fly using the new, lower cost, licensing schemes curently being introduced by many aviation authorities, LSA category aircraft are still much the equal of their older GA counterparts.
Ant's model features two versions, one with electronic displays and one with "steam" displays, based on real world aircraft currently in use and featuring a new "Realistic Prop Torque Effect".
For more details, to download the demo and purchase your copy, please visit simMarket.