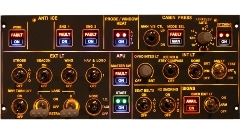 Fabio Merlo has returned to offer the Airbus home  cockpit builder another driver designed to provide a seamless interface between FSCockpit's hardware and Wilco/Feelthere's Airbus fleet.
This release supports the "Mini Overhead" panel, which covers the lighting, APU and anti-ice sections of the Airbus systems and includes direct support for the panel's lighting.
Configurable via a software user interface and requiring a licensed copy of Pete Dowson's FSUIPC module, the package is available from simMarket, here.