Simón Bolívar International Airport of Maiquetia, ICAO: SVMI is an international airport located in Maiquetia, Venezuela which is about 13kms from Caracas. It is the busiest international airport in the country with two runways; 10/28 @ 11,438ft and 09/27 @ 9,930ft. As a point of interest both runways are sloped but runway 09/27's slope is quite noticeable having a difference in elevation of 129ft. In 2011 just under 10 million passengers passed through the airport's facilities.
Installation and Configuration
Installation was simple process and required very little user intervention. During the installation you are presented with a screen that allows you to select certain scenery options for static aircraft and volumetric grass. If at some point you change your mind you will need to rerun the installer.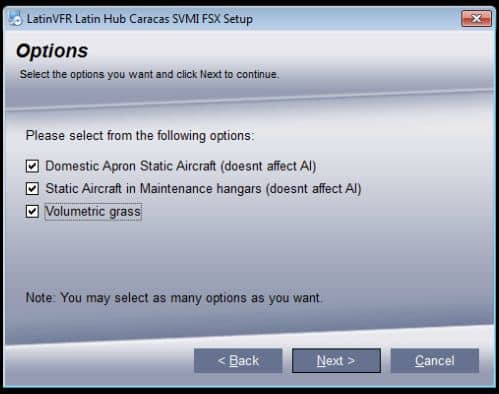 Documentation
You get two documents; a product manual and a set of aerodrome charts.
The manual contains the usual information such as airport history, scenery and airport specs, some set up tips and an FAQ section. They also include a little bit of nice to know info giving us the list of airlines using the airport, their destinations plus the terminal they use.
The charts are recent and include everything you will need to fly in and out of this airport realistically.
Scenery
Comparing the default FSX and LatinVFR versions of Simon Bolivar International airport the differences are obvious and significant. About the only thing the two versions have in common is that they both have two runways. This version of SVMI created by LatinVFR is detailed with many good points and lots for the sim pilot to enjoy. This addon is much more than just an airport and that is one of its best qualities, the area of enhanced scenery surrounding the airport makes a world of difference.
Here are the scenery highlights as given by the developer:
SVMI (CCS) airport completely modeled with significant attention to detail.
Sloped runways, aprons and taxiways.
Numerous high detailed Static aircraft (installed with user preference)
Surroundings extremely detailed.
More than 420 sq Kilometers of photo scenery with thousands of hand placed autogen.
Mesh for the entire area of Maiquetia
High resolution ground textures / Custom runway textures
Revised land classes for surrounding photo scenery.
Fully AI traffic compatible.
Excellent night effects.
Excellent frame rates.
Inclusion of manual in PDF format and charts.
Birds (FSX)
Native vehicle animations FSX.
Custom vehicle animations FS2004
and much more!
Ground Textures
Ground textures get mixed reviews. For all areas excluding hard surfaces they use photo scenery. The quality of the photo scenery especially near the airport are less than ideal, looking blurry and lacking in detail. It was very noticeable just north of the airport right next to the terminal buildings, in this area there is a multi-lane highway and several large parking lots. It was very difficult to distinguish these features unless you knew they were there. I was very disappointed with these textures and felt that it took away from the overall quality of the product.
As you get further from the airport into the mountainous terrain the problem of blurry textures became less noticeable. In these areas the results actually looked quite good.
The textures used for the hard surfaces such as the runways, taxiways and aprons were generally very good showing lots of details and evidence of hi volumes of aircraft traffic.
When looking at the painted markings I found the same issues that I had encountered in their KMIA scenery. Some of the lines were crooked, misaligned or disjointed. I felt that they could have been a lot better.
Parked in front of the domestic terminal looking east along runway 09/27 you can see that the runway drops off substantially. They were able to model this slope quite realistically. They did run into a few problems however trying to get the runway textures and the ground to line up; there were seams visible in some places but overall their efforts paid off with some nice visuals. I tried to land and take off on this runway and found my wheels sank slightly but not enough to consider it a problem.
Buildings
This airport landscape is dominated by the international terminal, domestic terminal, control tower and several cargo hangars. Comparing what they've included to real world photographs it looks like they've included everything.
The developer's in recreating all of the structures have sided with keeping things simple which might not be considered a problem by some but I believe that they could have done better. From a distance the overall impression is good and you see that they've captured the look of the sloped and curved roof lines, detailed jet ways and walls of glass but as you get in close as I do when reviewing a product you see that the qualities that would set the product apart from the pack and put it in the upper tier of airport addons is missing. I like to see much more in the way of discrete detailing plus better use of hi resolution images and colouring and shading techniques.
The other problem I saw with some buildings had to do with their placement. They didn't appear to always line up with the underlying ground images. This may have been a by-product of the blurry ground textures.
Objects
There are a variety of objects and vehicles included throughout the airport and its surroundings. The quality is good but up close you can see that many of the models lack some of the discrete details often seen in higher quality models.  Looking around the airport I spotted different objects such as cargo and freight, nav aids and different types of lighting. Pretty much everything you'd expect to see was here and placed appropriately.
Unlike many other airport addons they chose to include static aircraft and it definitely works in this scenery. This is a busy place and the addition of these aircraft is a definite plus. The aircraft are good quality models and are placed on the apron just as you'd expect to see them in a busy airport. To make them look even more realistic they've added a variety of service vehicles and objects such as air stairs so they appear to be getting ready to deplane or board passengers.
There were very few animations included with this scenery package. They do include some native FSX animations such as road traffic on the nearby highways, birds plus a rotating radar antenna. The overall appeal I feel could have been improved if they had added some custom animated apron traffic. As I was writing my review AES v2.22 was released and it includes support for the airport bring animated jet ways.
Surrounding area
One of the best parts of this addon in my opinion was the area around the airport. This area includes some of the coastline region stretching out from the airport for approximately 23 kms in either direction. They use custom mesh and photo scenery to model the Venezuelan Coastal Mountain Range and hand placed autogen to populate the cities and towns found in the modelled area. The end result is some fantastic scenery for both IFR and VFR flying. The first time I saw the area it was during an approach to runway 10 and I was amazed at how good the area looked. The hills are a lush green and they look absolutely stunning! To have a better look I took several VFR flights exploring the entire area and its beauty extends throughout the entire length right down to the detailed shoreline.
Along the shoreline and near the airport the developers have done a great job at adding all sorts of buildings so as you fly overhead you can't help but be impressed with how good they've made these densely populated areas look. For me this was definitely a scenery highlight.
Night
Night time operations went well at the airport, overall it had a realistic look with good lighting especially for the runway, taxiway and apron. The level of light and the area that was being lit was very good. I also felt that the runway and taxiway signs were very good, the ground just below appeared to be lit by the glow of these signs which is a very nice touch. Interior and exterior building lighting was well done and again the look was realistic.
Final Thoughts
This product has many good points and gives the sim pilot some spectacular scenery to enjoy but it also has shortcomings that come to light when you start to take a closer look. I have some reservations about the product but if you are interested in flying this part of the world I think it is worth serious consideration.
My Ratings
Installer:  Excellent. Little effort required, adds entry to FSX scenery library.
Documentation:  Good manual, I liked the fact they included airline info and charts.
Modelling:  Some good visuals but also many short comings especially when looking at the product close up.
Extras:  Surrounding area modelled. Compatible with AES v2.22
Download Size: FSX 198MB, FS9 81MB
Price: EUR 19.99 without VAT
Developer Homepage: http://www.latinvfr.com
Link: http://secure.simmarket.com/latinvfr-latin-hub-caracas-svmi.phtml
Test System:
Intel i7 960 OC @ 4.2 Ghz, 6 Gb RAM, EVGA GTX560 Ti w/1.2 Gb video, Win 7 Ultimate 64, FSX w/acceleration, Ultimate traffic 2, REX Overdrive, GEXn, UTX, AES, GSX.
Richard Desjardins