This scenery covers the Dubai International Airport and most of the city of Dubai.
Dubai International Airport, ICAO: OMDB; is the main airport serving Dubai. Located near the city of Dubai it is a major aviation hub in the Middle East and also the home base for the following international airlines: Emirates, FlyDubai and Emirates SkyCargo.
The airport holds several impressive distinctions; in 2011 slightly less than 51 million passengers used the airport making it the 11th busiest airport in the world for passenger travel and the 4th busiest for international travellers. It also has the distinction of being the 6th busiest worldwide for cargo traffic. A final one to note has to do with the terminal 3 building, which is the Emirates terminal building, it is the 2nd largest building in the world by floor space. Concourse A which is the world's first Airbus A380 dedicated facility has been included in this scenery.
Installation and Configuration
The installation of the scenery is a very simple procedure as most tend to be nowadays. You will need to add your name and the serial number provided to you at the time of purchase for the installer to proceed, after this a "choose components" screen will allow you to select or deselect a number of scenery options. If at any time you want to make changes you will need to rerun the installer. I've included a screenshot of this page and as you can see it is self-explanatory.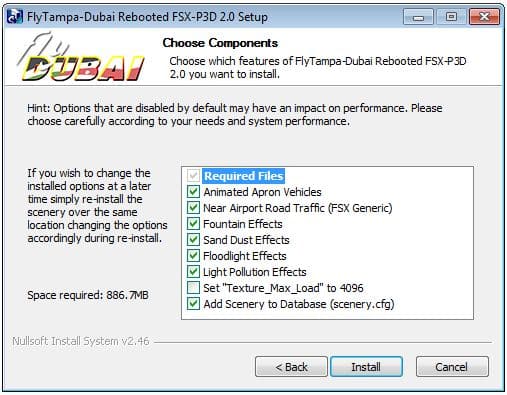 At the time of release there was a problem where the ILS frequencies for runways 12R and 30R and the VOR were wrong. Within days a replacement AFCAD file was released that fixed the problem.
Documentation
The package includes an eight page PDF manual. It is brief, to the point and well written. Besides generalized information about the airport and the city of Dubai they provide a scenery coverage diagram, an aerodrome chart, several pages of Q's and A's and a page that shows their recommended FSX settings. The last page has a variety of links including those for product updates and support.
Charts are not included as part of the documentation. I was able to easily find charts on the Internet by doing a search.
Scenery
The scenery has been released for both FS9 and FSX, my review is of the FSX version. Jaw dropping is one way to describe this scenery. I think that a better name for this scenery would have been "Dubai on steroids". FlyTampa is known for quality work and this one certainly continues in that tradition. One of the great things about it is that it was a total surprise, there was no hint of its pending release until just a few days before.
The scenery is a beautiful recreation of Dubai International Airport plus the surrounding city of Dubai. This is one of those locations that the majority of us will in all likelihood never travel to but can now experience thanks to FlyTampa.
Ground Textures
The ground base is all high resolution textures. The hard surfaces look very realistic. We see the results of the large amount of aircraft traffic with rubber residue in landing zones and along the various taxiway paths aircraft routinely take. Parking spots also show signs of dirt.
Buildings
I always enjoy seeing how each airport differs in its design, especially the buildings and then how well the scenery developers recreate them. Dubai was a real treat in this respect. In recreating all of the airport's structures they use the same techniques we've seen in their other releases; that is lots of details, high resolution imagery and creative colouring techniques. All three together make for some of the best looking structures you'll see in any airport scenery addon.
When you look at the airport what immediately jumps out are Concourses A, B and C which are part of Terminals 1 and 3; their look is unmistakeable. Each of the  buildings that make up these terminals, including the concourses, is recreated so that we can appreciate their own unique characteristics.  The most distinctive feature about them is their flattened tube like design. They look so real!
The only way to appreciate the intricacy of the modelling is to get in close to these huge structures. As imposing as they are when looking at them from a distance, which is what you need to do as they are so large, the intricate detailing that is included is just as impressive. Jet ways are fully detailed, but stationary, and the concourses feature pass through tunnels which are also modelled. Along the service roads that run next to the buildings and pass under the connecting overhead walkways there are vehicle road signs and the aircraft stands also feature functioning visual parking guidance systems.
The other buildings that make up these terminals are also painstakingly modelled and have their own interesting qualities. In each instance you will see some feature that makes it special.
In between Concourses B and C overlooking the runways is the airport's control tower. It features an interesting curved support structure that as of course modelled in detail.
The airport's other buildings although not as fancy or as modernistic in design are still unique in their own right and are given the same type of attention I described earlier.
The buildings I have described so far make up only a portion of all the structures at Dubai Airport. Other major structures include the Terminal 2 building found on the opposite side of the airport at apron E. Also on that side are some buildings used by Fedex and DHL as well as a cluster of hangars used by Emirates.
Located at the end of runways 12L and 12R is where the airport's cargo facilities are located. Again the buildings all look amazingly realistic.
The opposite end of the airport has a few buildings. Just east of Concourse C is the Airshow area with its brightly coloured bleachers and tent like roofs and next to it is the Royal Airwing. This is another structure that I would not classify as ordinary. At first glance it looks like a rectangle but on closer inspection you see that it has a gentle curve to it. To have recreated all of these buildings as good as they have must have taken a tremendous amount of work.
Objects and vehicles
It is no surprise that the quality of this facet of the scenery is top notch. The objects we see bring everything together. Without all of these smaller pieces an airport wouldn't be an airport. Dubai has been populated with a large number of high quality objects that we find in any airport environment and are necessary for its day to day operations. Most are ones we take for granted but expect to see; markers, lighting, signage, safety and security equipment, etc. All of these different elements have been included and look great. The aprons are also filled with the various vehicles associated with the activities that take place at aircraft stands such as baggage handling and the servicing of aircraft.
Cargo operations are another area where Dubai is extremely busy and to give us a sense of that FlyTampa have filled this area with various types of cargo along with the appropriate vehicle types.
Something I noticed that was lacking at Dubai were fire trucks. The fire stations were modelled but their vehicle bays were empty and there were no fire trucks anywhere else in the scenery.
City of Dubai
Luckily for us flightsim enthusiasts FlyTampa decided to extend their visual magic to include a large portion of the city of Dubai. Using high resolution photo textures as the base we get an accurate layout of the city on which they have placed an impressive amount of custom 3d objects.
The city's skyline is extraordinary and the degree to which it's been recreated is indeed something worth mentioning. I found it to be a major highlight of the package. The most prominent feature has to be the Burj Khalifa, the world's tallest structure at just over 800 meters. The diversity in building architecture is something I really enjoyed and all the work that they put into recreating the city in all of its glory is a sight to behold.
The city of Dubai has a fully automated driverless rail network known as the Dubai Metro system. The rail system can be seen snaking its way from the airport across the entire city. The modelled system includes the elevated tracks and futuristic pod like stations. They chose however not to include any trains, animated or static.  I understand that animated rail traffic would have put additional strain on scenery performance but I would have liked to see a static train or two at some of the stations.
Just as distinct as the city's skyline is it's unique shoreline which is probably best known for its man-made features. One of them is the Palm Islands or Palm Jumeirah. It is a man-made archipelago in the shape of a palm with 78 kms of shoreline and populated with hotels, apartments and villas. The beautiful Atlantis the Palm Hotel has been modelled and is quite impressive.
There is another cluster of islands known as the World. Its name is derived from the way the islands are positioned; they are said to resemble the world.
Dubai is served by Port Rashid which has been modelled to a degree and includes gantries and several large ships.
All of these features looked so good thanks to their use of photo textures.
Heliports
A great way to experience the city of Dubai is by helicopter. If you are up for a challenge you might want to consider taking off and landing at one of the 18 landable heliports. The majority of them are on building rooftops and they will surely put the piloting skills of even the most seasoned helicopter pilot to the test. For the less experienced there are a few that are land based or you could always simply fly in and out of Dubai International Airport.
My favorite is the helipad that is perched on the side near the top of the Burj Al Arab hotel. To me this is the most difficult as your direction of approach and departure are very limited.
Performance
This scenery has a massive amount of objects as you can see in the various screenshots. I am very happy to report that this addon provides very good performance and did not bog down my PC providing a fluid experience along with very good frame rates.
Animations
They include several different animations as part of the addon. The vehicular traffic at the airport and on the main thoroughfares of the city of Dubai are probably the most obvious ones. As usual they make a significant contribution to bringing an airport to life. Even if an airport has AI aircraft traffic having vehicular traffic moving around the aprons is a big plus.
Sand dust effects is an option you can select at the time of installation. As I was flying over the city I noticed that I was flying through what appeared to be a very fine brown cloud. However it was so fine that I only ever noticed it while actually flying through it.
Other animations you'll see are several water fountain spouts plus some flags flapping in the breezes.
Night
As impressive as this scenery is during the day it is just as impressive at night. It's a whole new experience with a new set of wow moments.
Beginning with the ground lighting; the lights are distinct and their brightness  is not overdone.
The glow given off from the taxiway/runway signage illuminates the ground directly in front of each one. This is an affect that is very realistic and is one of those subtle features that you normally won't be aware of unless you are close to it. But to me it shows that the developer takes that extra step towards scenery realism.
Building lighting was another piece of the overall pie that was very realistic. The bitmap images used were high resolution images like those used for the daytime. With this we get a very good impression of how the lighting from any wall mounted fixtures illuminates the building surfaces. The realism is enhanced in many places by their inclusion of detailed 3D wall mounted light fixtures. This attention to realism can be seen in all buildings.
The largest structures at Dubai are the main concourses. At night the soft glow of their interior lighting comes through and is visible from quite a distance.
The skyline of the city of Dubai looks amazing with all of the lights. They have done a great job of making these large sky scrapers look realistic by adding little touches such as blacking out some of the windows so not every single window is illuminated; makes us believe there might actually be some activity going on. As well, the buildings aren't all lit up with the same colours, there are subtle differences here to. In real life not every light has the same intensity or is the same colour and we see that here. I think that the screenshots speak volumes to the quality and realism of the city's skyline.
Approaches
After installing the small AFCAD update I was able to successfully complete IAPs to each of the airport's runways. The views were spectacular!
Final Thoughts
Recommending this scenery is a no brainer. The only drawback may be that this airport is in a part of the world that is off the beaten path and for that reason some people may shy away from it, to them I would say don't let that stop you. It's hard to find better quality airport addons than those produced by FlyTampa. You will never go wrong by purchasing one of their products.
My Ratings
Installer:  Excellent. Very simple to use.
Documentation: Very good. No charts.
Modelling:  Excellent throughout the entire scenery.
Extras:  Some configuration options available. Most of the city of Dubai is included with many landmarks and unique structures.
Download Size: FSX/P3D 461Mb, FS9 103Mb
Price: EUR 26.00 without VAT
Developer Homepage: http://www.flytampa.com
Link: http://secure.simmarket.com/flytampa-dubai-rebooted.phtml
Test System:
Intel i7 960 OC @ 4.2 Ghz, 12 Gb RAM, EVGA GTX560 Ti w/1.2 Gb video, Win 7 Ultimate 64, FSX w/acceleration, UT2, REX Overdrive, GEXn, UTX, AES, GSX.
Richard Desjardins