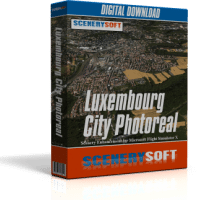 ScenerySoft have released their photoreal scenery for the city of Luxembourg.
The full press release can be found by clicking "Read more" at the end of this article, but the scenery's highlights include both building and foliage autogen, edge blending with default textures, five season texturing and lit roads at night. Full details can be found at the ScenerySoft website.
Full Press release text:
Luxembourg City Photoreal is a photoscenery add-on for Microsoft Flight Simulator X. It will add a photorealistic area of 110km² in 1 meter per pixel resolution that will cover the whole city as well as the airport on the northeast.
Luxembourg City Photoreal adapts to seasonal changes, whether it's spring, summer, fall, winter or hard winter (snow coverage). During the night you will see illumination on streets and highways as well as darker areas in forest and fields where no light is cast.
Also featured is full autogen coverage for the photoreal area with trees and buildings which users can disable if they prefer in the FSX settings.
Great care was taken in making sure that the transition from the photorealistic ground to the default landclass ground is as seamless as possible, without hard borders and smooth feathering, as well as color tones.
FEATURES
110km² of 1m resolution covering the whole Luxembourg City
Autogen with buildings and vegetation
Seamless blending with surrounding default terrain
Full seasonal textures including "hard winter" snow coverage
Full night lighting, see illuminated roads, highways and city area
Water mask for all rivers, streams and ponds
Native FSX product fully compiled with FSX-SP2 SDK
For information and purchase visit www.scenerysoft.com