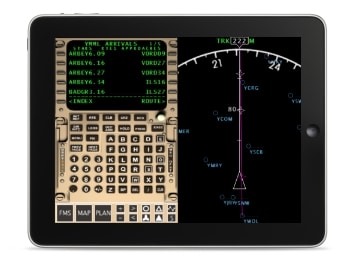 Michael Defeyter of ifms-fs.com has announced the release of iFMS for iDevices – "a fully functional "Boeing Style"Flight Management System and HSI display on iPhone, iPad or iPod."
Connecting via WiFi and a PC-based connection application available to download from the developer's website, iFMS features a Multifunctional Control Display Unit (MCDU) and a Horizontal Situation Indicator/Navigational Display (HSI/ND), switchable depending on the size and orientation of your mobile device.
More details can be found here, or you can read the full press release by clicking "Read more" below.
Full press release text:
— —
I am happy to announce the release of iFMS for Apple iPhone/iPod/iPad.
iFMS will provides you with a nearly fully functional "Boeing style" Flight Management System and HSI display on your iPhone, iPad (Mini) or iPod Touch, to make your Flight Simulator experience a more realistic one.
The FMS display and functionality simulates the "Boeing style" Flight Management System accurately.
Apart from all the standard flight planning and tracking (LNAV and VNAV) functionality, all the more complex functions such as hold programing, custom waypoint programming by coordinates, heading/distance calculation or waypoints radial/intersection calculation and abeam route waypoint calculations are available as well, along with much, much more.
The HSI display was developed to equally realistic standards.
Like the real Boeing HSI display it has a moving "MAP" mode and "PLAN" mode which allows for stepping through the active route.
Your programmed route, the waypoints, the fixes, the navaids, the airports etc. are all programmed to be displayed using the standard symbolization rules of the industry.
The route is properly drawn as a rounded track with turns calculated based on groundspeed and configurable parameters in your aircraft file.
The visible range of the HSI can be set in the usual intervals between 5NM to 320NM.
Toggling display of airports, navaids, fixes, and visual reporting points (if present in the navigation data) is off course possible as well and these functions respond depending on the current visible range, just they would in the real Boeing system.
iFMS uses Wi-Fi to connect to your favorite Flight Simulator over your local network, alternatively iFMS can also use the device GPS (if present) as a data source, you can be a passenger in the car and practice your FMS programming skills. Be aware though, iFMS cannot be used for real world aviation navigation as this is strictly against the terms of use of this product.
iFMS can be configured for use with almost any of your favorite Flight Simulator's standard or add-on aircraft, 2 default aircraft are included but you can easily make your own on your PC and transfer them to iFMS through iTunes.
Features summary:
– Realistic Flight Planning/Tracking/Navigation
– Realistic Boeing style Flight Management System
– Realistic Boeing style HSI display
– LNAV & VNAV calculation
– Single portrait or side by side landscape view
– Configurable aircraft
– Use your own created aircraft files
– Loading and saving of flight plans
– Import flight plans and aircraft from your PC through iTunes
– Updatable navigation data
Compatibility:
Since iFMS is a nearly complete "Boeing style" Flight Management System it requires a significant of memory and processing power to run comfortably. iFMS may consume up to 128Mb of RAM to run. Hence iFMS cannot be supported on older devices but only be run on the following:
– Apple iPad
– Apple iPad Mini, or
– Apple iPhone (3GS or later)
– Apple iPod Touch (4th generation or later)
Please visit http://www.ifms-fs.com for more details about iFMS, supported flight simulator packages and how to connect iFMS to them.